Potato Goat cheese balls are one of those snacks that you will want to serve at any get together. Or simply at any time!
I recently got to test a package of goat's cheese from the Dutch brand, Bettine. Now I have a weak spot for cheese and especially soft cheese. So I was happy to play around and come up with some cheesy ideas. 😉
For more info on this particular brand, check out Bettine geitenkaas – het verst van dichtbij
Goat cheese, also known as fromage de chèvre in French, pairs so well with many things because it has such a mild taste. The cheese comes in different forms and textures. For this particular Potato goat cheese balls recipe, I used a soft log of goat cheese as it melts away easily with the hot potato.
To get a nice mash potato, it is best to use a starchy potato that crumbles easily. In Holland, look for potatoes called "kruimige aardappelen". These potatoes cooks faster and has a good texture for mash. Peel the potatoes and add it to a pot with approximately 1/3 part water. Boil it for about 10-12 minutes until tender enough to stick a fork in it.
Once the potatoes are cooked, drain the excess water. Allow the potatoes to steam with the lid off for about 5 – 10 minutes before mashing it. Mashing the potatoes while still wet, will result in soggy and moist potato balls.
For more Goat Cheese recipes, check out Cranberry Galette with Goat Cheese & Caramelised Onions
Please note that Galley of Gail was not paid to write this post. Any links or products shared in this post are based on my own opinions.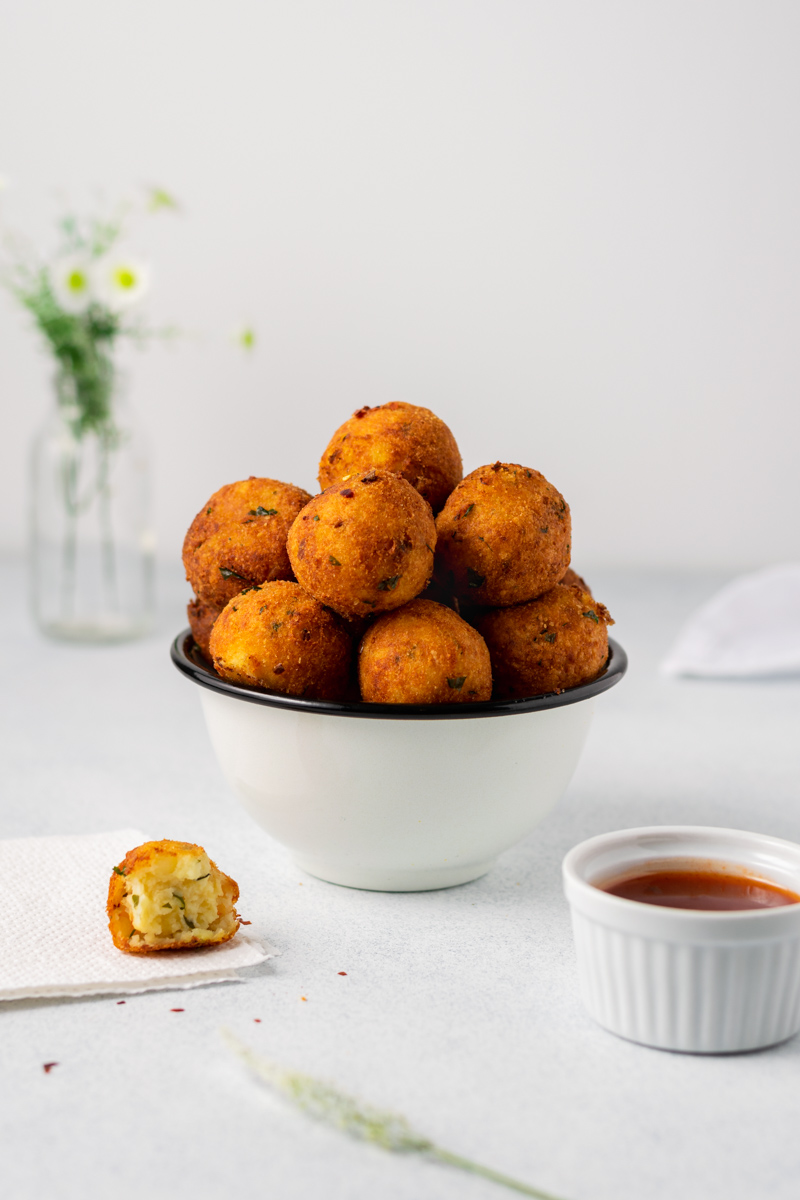 Print Recipe
Potato Goat's Cheese Balls
Cheesy potato balls that are crispy on the outside and fluffy on the inside!
Ingredients
400g potatoes
1 tbsp butter
100g Bettine Goat's Cheese
10g parsley
5g chilli flakes
5g salt
20g corn starch
3 tbsp dried breadcrumbs
500ml oil
Instructions
1

Peel the potatoes, cut in cubes and boil until tender, about 10 -12minutes.

2

Remove from heat, drain the water and let it steam for 5 - 10 minutes.

3

Add butter, followed by goat's cheese, parsley, chilli flakes, salt and corn starch.

5

Use a tablespoon to scoop from the mixture and roll into balls.

6

Roll the balls in breadcrumbs to cover completely.

7

Heat the oil and fry the balls for 5 minutes or until golden brown.
Nutrition
59 Calories

8,2g Carbohydrates

16,7g Fat

0,2g Fiber

11,9g Protein

11,8g Saturated fat

187,5mg Sodium
Notes
- The oil should be hot but not boiling. Warm the oil on a medium heat. Using too hot oil will result in balls falling apart. - Ensure to use the proper amount of corn starch. Using too little will result in balls falling apart. Calories excludes oil for frying.