Banana loaf with cardamom mandarin butter is perfect for every day baking and any occasion. Simple and easy to whip up in no time!
We're big banana muffin fans in our household. You'll often find Banana Spinach Muffins parading on the kitchen counter for grabs. It's our favourite go to snack. But for some reason my son has had a craving for banana bread lately. And you know, what the boy wants, the boy gets. Yeah right! But I just so happened to have some overripe bananas in the fridge.
They were practically black as the night and soft. I actually considered throwing it out but am I am so glad that I didn't do it. The fact that it was so overripe, is what made this probably the best banana bread that I have ever made. I have been instructed to make it more often and I most certainly will.
Butter on freshly baked bread is just a match made in heaven. I've decided to spice the butter up a bit and added some mandarin zest. Something very commonly used in baking in Cape Town. Simply grated the peel of a few mandarins, spread it on a baking sheet and bake it at 50degrees C. Keep an eye on it and stir it every 10 minutes. Store in an airtight container.
And to add a bit of crunch, I have added some sliced almonds. Heat a pan and toast the almonds until brown. Toss it continuously and remove it immediately from the warm pan to cool off. Set it aside until needed. You can also opt to use walnuts in this recipe.
This banana loaf with cardamom mandarin butter can be saved for a few days by wrapping it on plastic cling wrap and stored in an airtight container.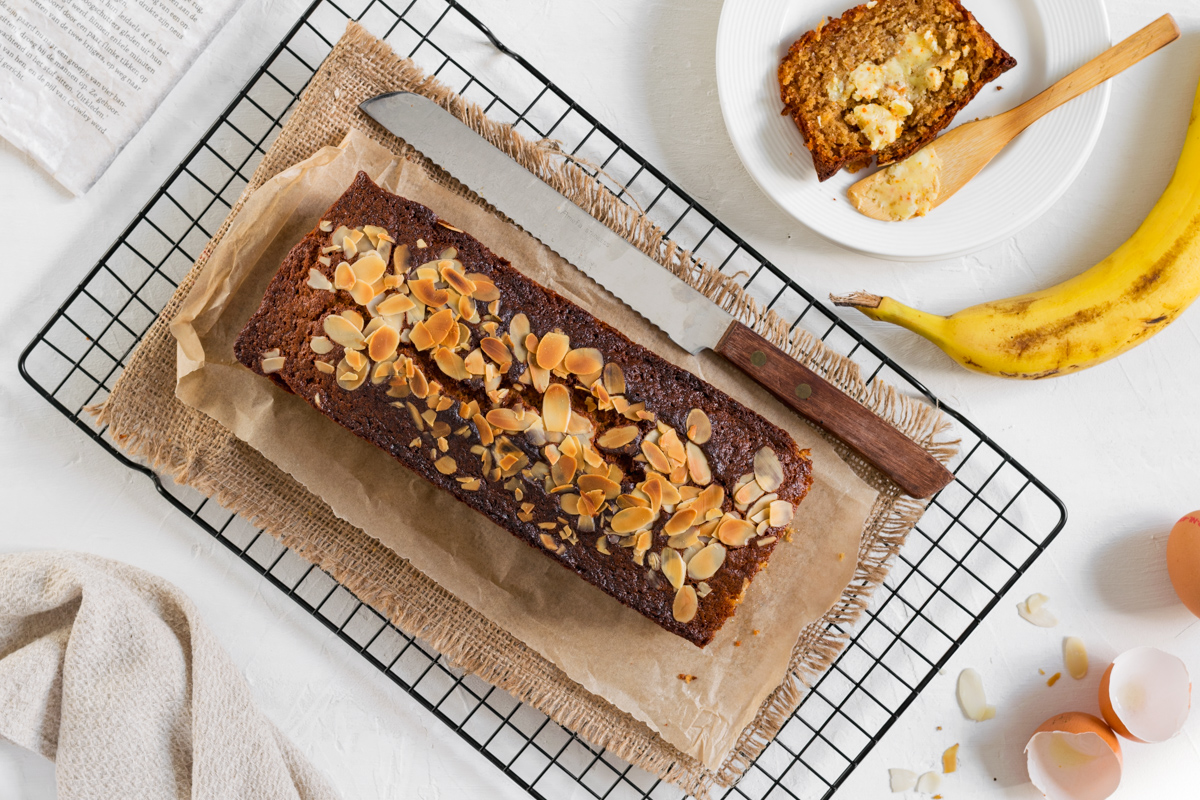 Print Recipe
Banana Loaf with Cardamom Mandarin Butter
A moist banana bread topped with toasted cashew nuts, served with cardamom mandarin butter.
Ingredients
3 overripe bananas
200g brown sugar
150g unsalted butter
2 eggs
240g flour
2tsp baking powder
1/4 salt
For the butter:
100g unsalted butter
2 tsp mandarin zest
1 tsp cardamom powder
1 tbsp honey
Instructions
1

1. Preheat the oven to 180 degrees C.

2

2. Mash the bananas. Add sugar, butter and eggs.

3

3. In a different bowl sieve flour, baking powder and salt.

4

4. Add the flour mixture to the banana mixture bit and bit and slowly mix with and electric mixer.

5

5. Pour the batter into a greased bread baking tin and bake for 45-50minutes.

7

1. Mix honey, mandarin zest and cardamom with the butter. Store in fridge until ready to serve.
Nutrition
349 Calories

39,4g Carbohydrates

19g Fat

1,4g Fiber

4,9g Protein

10,9g Saturated fat

319mg Sodium

17,6g Sugar

6,9g Unsaturated fat