Refreshing berry smoothie bowls to kickstart the morning. Packed with different berries, making this colourful breakfast an antioxidant bomb.
Smoothie bowls are perfect for in the mornings. All you need to do is throw everything into a blender and in no time you'll have a smoothie bowl. Smoothie bowls are thicker versions of smoothies that you eat with a spoon. Decorate it with fresh fruits, muesli, nuts, seeds and honey and you are good to go.
At a first glance, it might seem like these breakfast bowls takes a lot of time and effort to make. In actual fact, anyone can make it. Scroll Instagram and you will find everyone including celebrities posing with smoothie bowls. They make for some Instagram worthy pictures too. ?
When it comes to flavours, the possibilities are endless. I aim to use whatever is in season and I love to play around with colours and toppings. I almost feel too guilty to eat such a pretty dish. These particular berry smoothie bowls gets it's beautiful colour from the blueberries and red currants.
I mainly enjoy smoothie bowls in summer. I like to imagine that I am laying in a hammock on a tropical island somewhere in the Far East enjoying it. And yes, I am allowed to dream given the fact that all holidays were cancelled this year. My imagination has been working overtime.
If you prefer drinking your smoothies, just add more liquid (juice, water or milk) and blend it. For more smoothie ideas, perhaps try this Mango Strawberry Green Smoothie
I am not ready to part with summer as yet, no matter what the weather might be like outside at this moment. I will just be sitting here in denial, dreaming of laying in that hammock on a tropical island. ?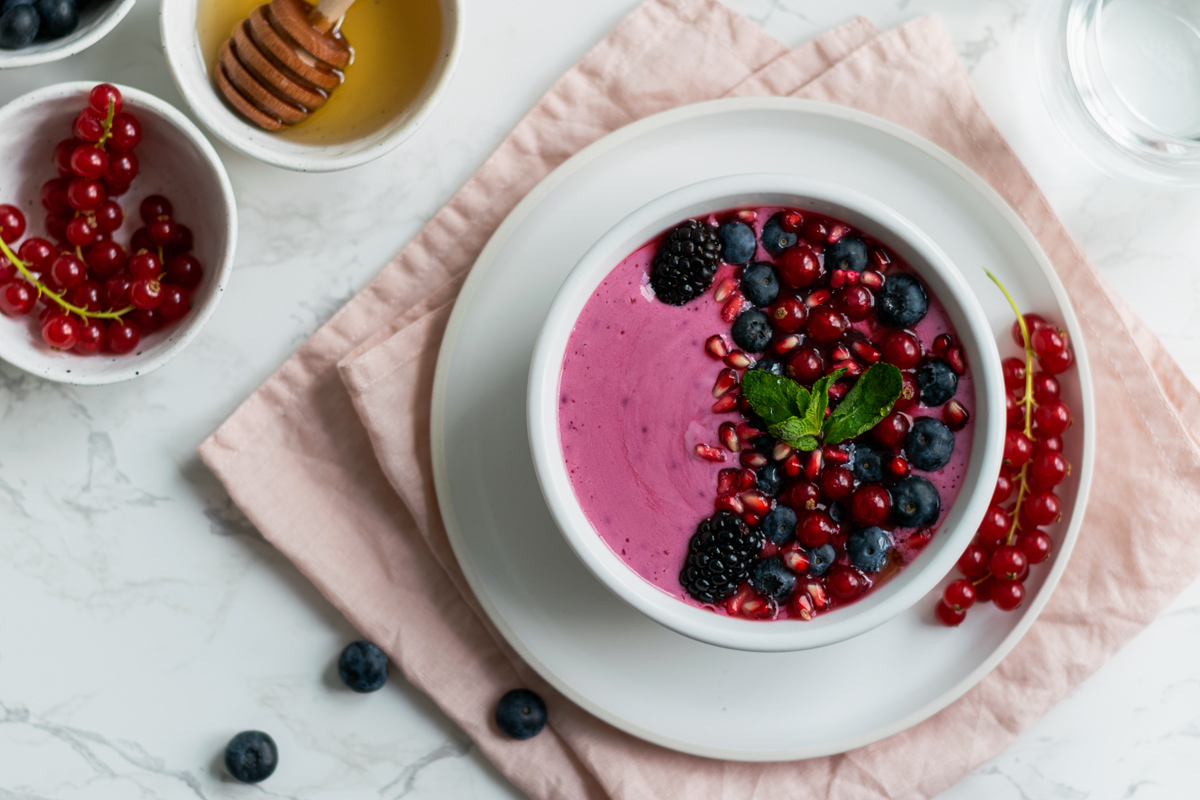 Print Recipe
Berry Smoothie bowl
A breakfast bowl made from fresh mixed berries and pomegranate seeds.
Ingredients
300g Mixed berries (blueberries, blackberries, red currants)
100g Pomegranate seeds
400g Greek Yoghurt (0,1% fat)
2 tablespoons honey
Mint sprigs, to garnish
Instructions
1

1. Blend half of the berries and half of the pomegranate seeds.

2

2. Pour into bowls and decorate with the remaining berries and seeds.

3

3. Drizzle with honey and top with mint.
Nutrition
244 Calories

41,2g Carbohydrates

0,7g Fat

8,6g Fiber

12,8g Protein

0,2g Saturated fat

808mg Sodium

37,6g Sugar