Boeber, a milky Cape Malay treat that is served as dessert in South Africa during the fast.
I consider myself fortunate to have grown up in a country rich with different cultures and especially in Cape Tow. Religion in particular, was never a discussion. If someone had a different religion to yours, you would naturally just respect that. No questions asked. And the way it should be, if you ask me.
The neighbourhood I grew up in, had a mix of Christians and Muslims with quite a few churches and mosques. There was a mosque three houses away from where I lived as there were many Muslims in the neighbourhood. So I have many Muslim friends / family and often enjoyed celebrating Eid with them.
During the month of Ramadan, it was usually very quiet on the social scene as most of my friends would be fasting. I would see them briefly in the evening before some of them would head to the mosque for evening prayers. Or when they would come by and bring me "barakat" after dinner, which is an Arabic word for blessings. It usually contained a plate of freshly baked goodies.
Boeber is a sweet, milky drink made from sago and vermicelli and infused with sago, cardamom and rosewater. It is served halfway through the month of Ramadan on the fifteenth day. I love it and my friends knew this. So on the fifteenth day, I would be eagerly waiting for someone to bring me this sweet treat.
Because this tradition is not very common in Europe, I have decided to make this myself. Boeber is usually made according to family recipes. How sweet you like it, depends on you. I have also substituted the milk for almond milk which compliments the flaked almonds perfectly.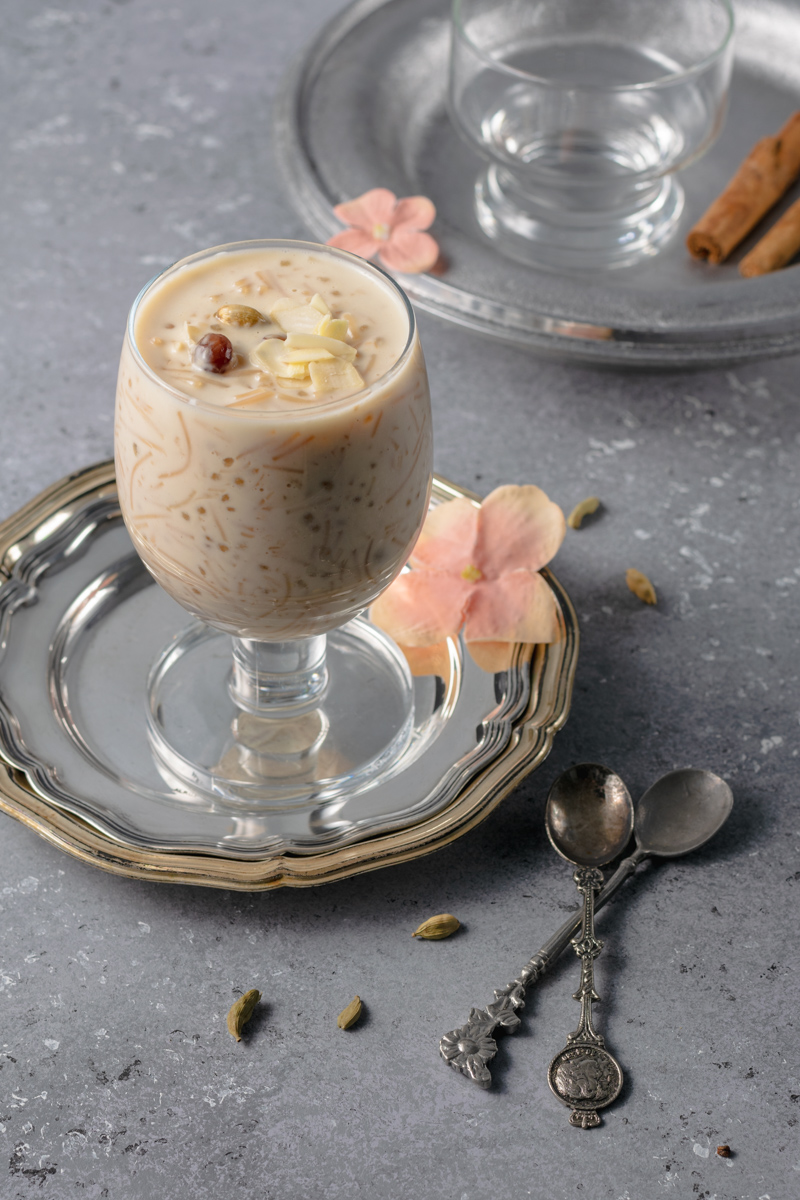 Print Recipe
Boeber
A thick, sweet milky drink made from vermicelli and sago, infused with cardamom and cinnamon.
Ingredients
60g sago, soaked in water for about 25min
60g butter
80g vermicelli
6-7 cardamom seeds, bruised
2 stick cinnamon
50g sultanas
1,5l almond milk
150ml Condensed milk
10ml rosewater
50g , toasted almond flakes
Instructions
1

1. In a saucepan, melt the butter and fry the vermicelli lightly.

2

2. Add the cardamom seeds, stick cinnamon and sultanas and fry for 2 minutes.

3

3. Add milk and condensed milk and bring to boil.

4

4. Add pre-soaked sago and simmer for 10 minutes until sago is transparent and vermicelli is soft, allowing boeber to thicken

5

5. Remove from heat and add rosewater and almonds.
Nutrition
305 Calories

38,9g Carbohydrates

14g Fat

2,3g Fiber

5,2g Protein

7,3g Saturated fat

33,8mg Sodium

19,5g Sugar

3,1g Unsaturated fat
Notes
1. Almond milk can also be substituted for cow's milk. 2. Rosewater may be replaced with vanilla essence. 3. Add more condensed milk for a sweet taste.