Bruschetta with tomato and anchovies takes me straight back to Italy. It is usually served as an antipasti on Italian menus. Serve it at a brunch or enjoy as snack.
Did you know that tomatoes are fruits and not vegetables? That is because they form from flowers and have seeds. I have tried my hand at growing cherry tomatoes in my apartment. The plant grew very tall and had lots of white flowers. Sadly, I had to throw it out as I felt like Jack and the beanstalk.
I love cherry tomatoes. They are sweet, juicy and healthy. Filled with Vitamin C and antioxidants. They come in vibrant colours of red, yellow, green and red with black speckles which looks great in salads. Often enjoyed as just a snack too. Drizzle them with olive oil and roast it in the oven with garlic.
How to store cherry tomatoes?
Store them at room temperature in a dry place. It is best not to store them in the fridge, as they will lose their taste. Alternatively, you could blanch the tomatoes for 1 minute and store it in an airtight container for up to 12months. I have to admit that fresh ones are much nicer!
There are many variations to this bruschetta with tomato and anchovies. The most common one is with tomato, basil and mozzarella. For a sweeter version, have a look at my fruity bruschetta recipe. https://www.galleyofgail.com/2020/07/fruity-bruschetta/
To cut or to tear basil leaves?
The debate goes on. Some say that cutting it will cause the leaves to go brown quickly. Others say that by tearing the leaves, it will release more flavour. I saw a programme where an Italian lady swore by tearing the leaves. I tear mine as who am I to argue with an Italian mama?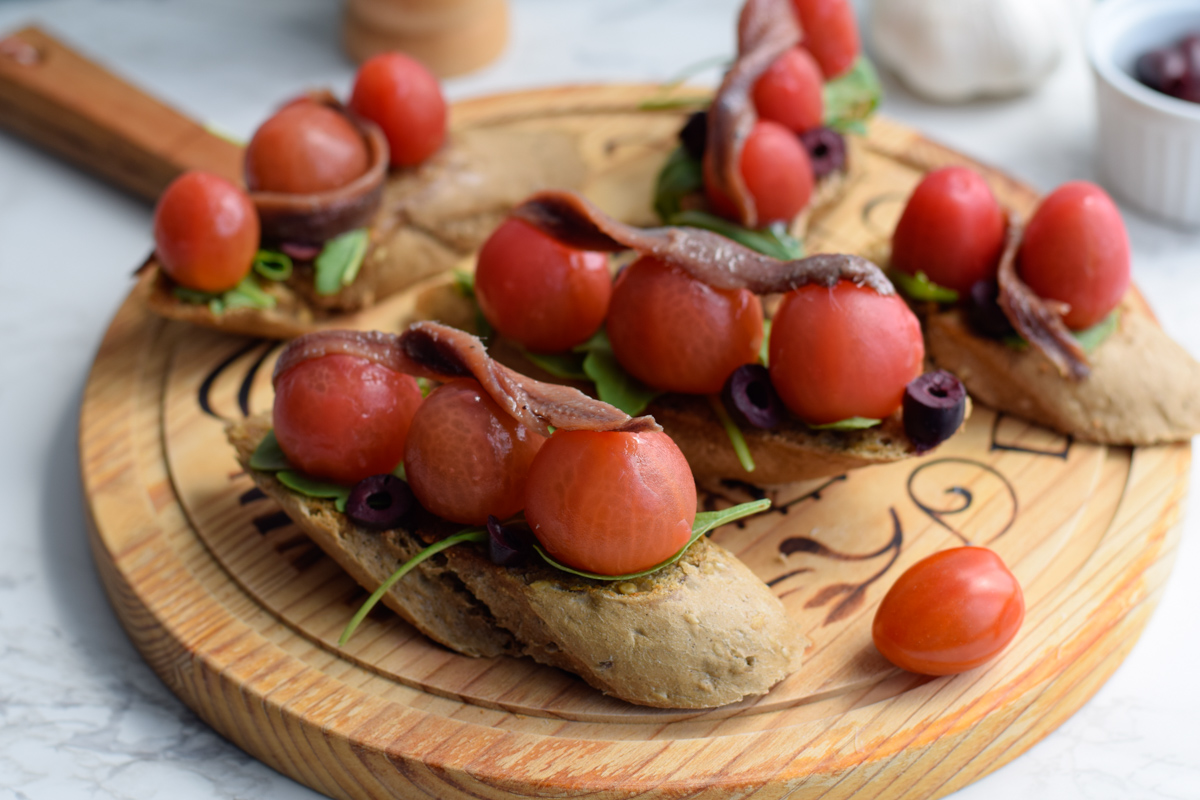 Print Recipe
Bruschetta with Tomato and Anchovies
A lovely savoury bruschetta served with anchovies and olives.
Ingredients
1 baguette, cut diagonally into slices
2 garlic cloves
500g cherry tomatoes
salt & pepper, to taste
arugula leaves
15g pitted black olives
a can of anchovy filets
Instructions
1

1. Drain the anchovy filets and save the oil.

2

2. Rub the baguette slices with garlic and oil from the anchovies.

3

3. Heat a frying pan. Fry the baguette slices on each side until toasted and golden brown.

4

5. Bring a large saucepan of water to boil. Fill another bowl with cold water.

5

6. Add the cherry tomatoes to the boiling water and boil for 3 seconds.

6

7. Remove it quickly with a slotted spoon and add it to the cold water.

7

8. Drain the tomatoes and remove the skin. Season with salt & pepper.

8

9. Layer the baguette with spinach leaves, followed by tomatoes and top with anchovies and olives.
Notes
Use any greens in place of arugula.