Butternut soup with orange, apple and carrot promises to be winter staple when it comes to homemade soups!
Soup season is here and I am not complaining. Nothing is more comforting than a warm bowl of soup on a cold, rainy day. I try to make a big pot of soup at the beginning of the week during the cold months. It's hard to fail at making soup. It's as easy as tossing your favourite veggies together with water and stock. And in no time you're able to enjoy a bowl of comfort.
The hardest part of making vegetable is soup has to be the chopping of the vegetables. But if that is not your thing, most supermarkets sells pre-cut veggies. I do prefer fresh veggies and somehow enjoy the process of preparing a meal. But to be honest, cutting butternut squash or pumpkin is not the easiest to do.
The trick is is find a butternut squash that is even in the length. It makes it so much easier to peel. Then, with a sharp knife, cut off the edges so that the butternut squash is able to stand upright without falling over. Peel the butternut with a vegetable peeler. Next, lay it flat and slice off the top half and then slice it in half, followed by however you might want to use it.
Slice through the bottom half and remove the seeds. And continue to slice into smaller parts. The seeds are edible as well. Simply wash them under running water in a colander and remove any flesh. Pat dry them, drizzle with olive oil and sea salt and toast in the oven at 150C for 25 minutes.
Serve this butternut soup with a dash of cream and some bread rolls on the side. It's a guaranteed winner for the cold days.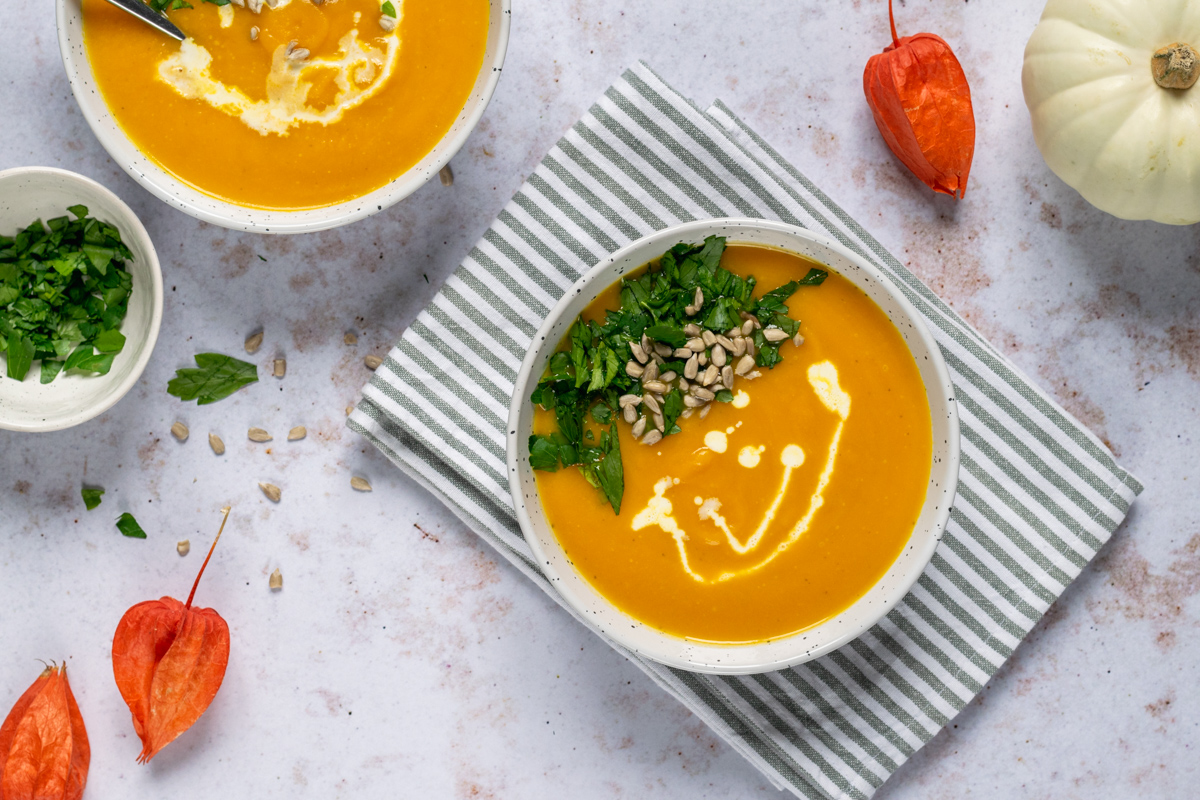 Print Recipe
Butternut soup with orange, apple and carrot
A sweet, creamy butternut squash soup with apple, orange and carrots.
Ingredients
15ml olive oil
1 onion
1 garlic clove
1 medium size butternut squash, cut into chunks
2 large carrots, diced
1 red apple, cubed
1 orange, juiced
2 cubes of vegetable stock
Instructions
1

1. In a medium size pot, fry onions and garlic in oil for 3 minutes.

2

2. Add butternut and carrots and fry for another 5 minutes.

3

3. Add vegetable stock, water and apple and simmer for 20min.

4

4. Add orange juice and simmer for a few more minutes.

5

5. Remove from heat and blend until smooth.
Nutrition
157 Calories

26,4g Carbohydrates

3,5g Fat

5,6g Fiber

2,6g Protein

2,3mg Sodium

9,9g Sugar

0,9g Unsaturated fat
Notes
Serve with chopped parsley, seeds and a bit of cream.