Cape Malay pickled fish is a traditional way of kicking off the Easter weekend in South Africa. Instructions to the recipe varies per household but the base is all the same.
The origin of the recipe remains unclear. However, it is known that the Cape Malay men were known to be experienced fishermen. And their wives were very good at preserving any extra harvest for months to come.
Cape Malay pickled fish is traditionally served on Good Friday with hot cross buns. The tradition is common amongst Christians who abstain from eating meat on Good Friday. But not limited to only them. Many from different religions enjoys this tradition.
Tips and instructions on how to make pickled fish:
Select a firm white fish. Depending on where you live and what is available, codfish or hake works well.
Cook the fish in small batches. Do not overload the pan with too many pieces. To avoid the fish from falling apart, flip it gently one time only.
Add fish spice to the dusting flour, if you like. The spice should not be too overwhelming and clash with the rest of the spices in the marinade.
Sweet yellow onions works well in the dish. Do not slice it too thin or overcook it. The onions needs to have a bit of a bite.
Adjust the amount of onions according to your preference.
Add a 100ml water for a milder vinegar taste.
Use clean sterilised jars and containers to store the pickled fish.
Make the pickled fish a few days ahead of time. The marinade contains turmeric which may stain containers.
Serve it with hot cross buns or raisin bread rolls.
More seafood recipes: Zucchini Noodles with Shrimps and Goat Cheese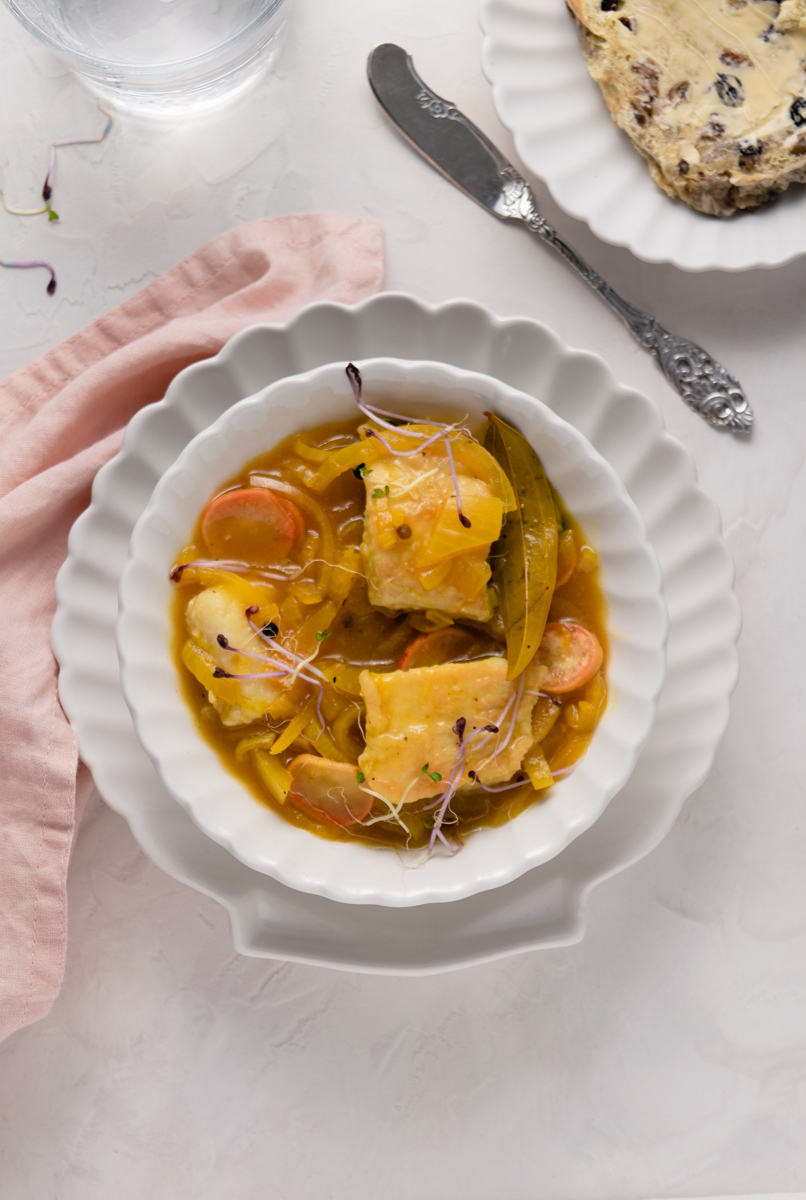 Print Recipe
Cape Malay Pickled Fish
Lightly coated fish in a sweet and sour marinade with onions and radish.
Ingredients
500g yellow onions, sliced
75g radish, sliced
2 tsp ground turmeric
2 tsp coriander seeds
2 tsp black pepper corns
1/2 tsp salt
1 small green chilli, deseeded and sliced
100g sugar
600ml water
40g corn starch
600ml yellow vinegar
1kg codfish (or any other firm white fish)
100g flour
60ml olive oil
salt & pepper, seasoning
Instructions
1

1.Slice the onions in half and then in rings.

2

2. Slice the radish in thin slices.

3

3. In a saucepan, add onions, turmeric, coriander seeds, peppercorns, chilli, salt and sugar.

4

4. Add water and vinegar and cook on medium heat for 10 minutes.

5

5. Meanwhile, heat oil in pan. Pat the fish dry and sprinkle with salt.

6

6. Lightly dust with flour. Heat the oil and bake the fish until cooked.

7

7. Set fish aside on paper towel to drain excess oil.

8

8. Remove onion marinade from heat.

9

9. Make a paste from the corn starch and some liquid from the marinade. And add to onions.

10

10. Add the radish to the onions.

11

11. In a container. layer some onions, follow with a layer of fish and continue in that order.

12

12. Seal tight and refrigerate at least overnight.
Nutrition
346 Calories

35,7g Carbohydrates

12,2g Fat

2,7g Fiber

21,3g Protein

2g Saturated fat

810,5mg Sodium

5,5g Sugar

10,1g Unsaturated fat
Notes
Pickled fish can be made a few days ahead of time.