Mango is probably one of my favourite fruits. The combination of the different textures of mango in this parfait brings out the best in the mango.
Growing up in South Africa, I looked forward to summer for certain seasonal foods and mangoes were certainly one of them. As kids, eating it inside of the house was not allowed as it could get quite messy. You had to enjoy them outside. Preferably somewhere quiet in shady spot where no one would find you and you did not have to share it.
Now the tricky part is how to cut a mango.
They tend to be very juicy once you slice into it. Things can get messy in no time. And trying to hold onto it when the skin comes off, is like trying to catch fish with your bare hands. However with the right tools and techniques, you'll find that it does not need to be so complicated. In the video below, Inspire to Cook shows various ways to cut a mango.
https://www.youtube.com/watch?v=oTsMZ38vxYc
Chia seeds have become very popular over the last few years. They can be found in the health isles of almost all major grocery stores. The little seeds has many health benefits and has a slightly nutty taste. They are quite versatile too. Sprinkle over cereals, add them to smoothies or soak them in puddings. Definitely something worth having in the pantry.
This mango parfait not only looks good but tastes delicious too. It also makes as an easy go-to breakfast. Prepare them the night before and add the granola in the morning, if you have no time. In need of a summer dessert? Then skip the granola and serve as is. Enjoy!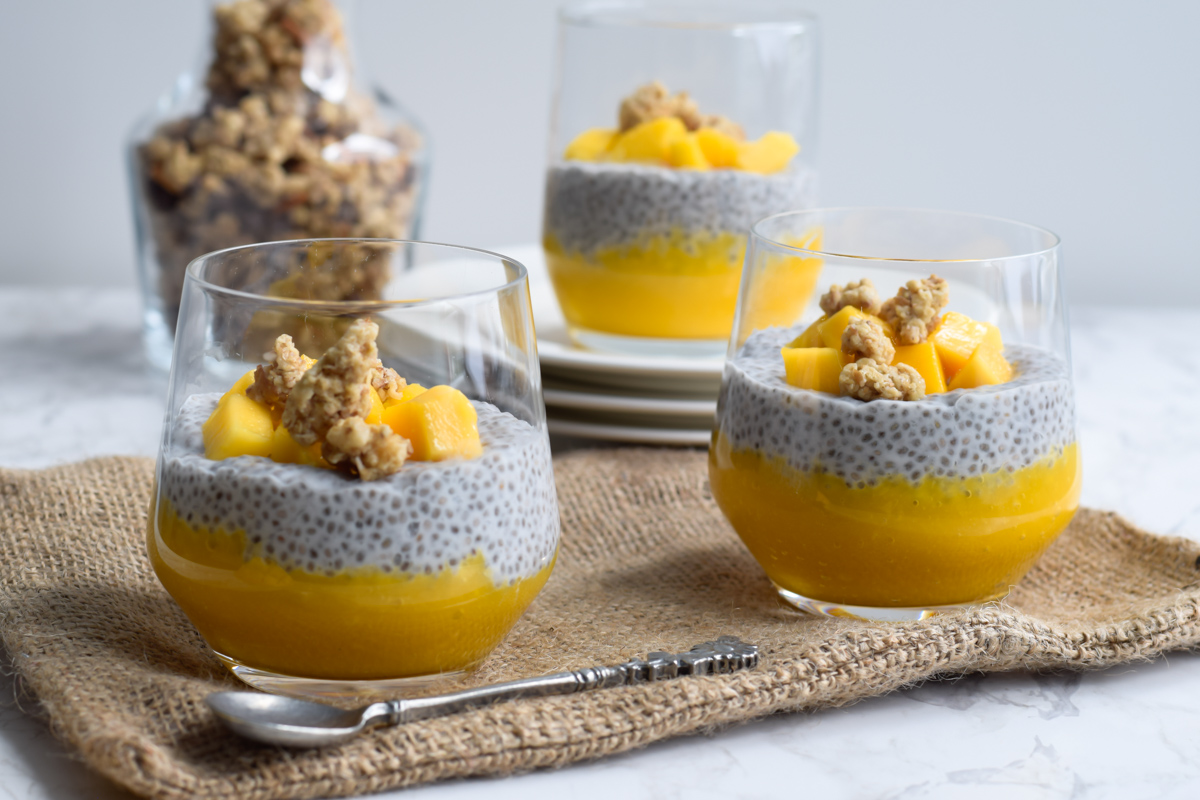 Print Recipe
Chia Mango Parfaits
A coconut chia parfait topped with granola and mango.
Ingredients
2 mangoes
400 ml coconut milk
50g chia Seeds
1 1/2 tablespoons honey
50 g granola
1 tablespoon roasted coconut flakes
Instructions
1

1. Mix coconut milk, chia seeds and honey in a bowl and let it set in the fridge for 2-3 hours, or preferably overnight.

2

2. In a blender, puree one mango and set aside.

3

3. Slice the other mango in small blocks of about 1-2cm.

4

4. In a glass, create layers starting with mango puree followed by chia seeds mixture and mango pieces.

5

5. Top with granola and sprinkle with coconut.
Notes
Replace the coconut milk with any plant based milk of your preference eg. almond or soya milk.