This festive cranberry galette with goat cheese and caramelised onions serves as a perfect party snack during the holiday season.
Galettes are so easy to make, it's hard to fail at it. The best part is that it is a free form and does not require a perfectly cut out dough. You could even just use puff pastry and fill it with something sweet or savoury. But you could also just whip up a simple dough from scratch. I have tried both and my preference goes out to self made dough. Adding a bit of mixed nuts around the edges gives it a more finished look. Especially if you are concerned about uneven edges.
The holiday season is here and so are all the good foods that only seem to make it's appearance once a year. Can you even call it a holiday season without cranberries? They somehow make their way into all different dishes. From sweet to savoury, in all edibles and even drinks. And we're not complaining.
They have many health benefits like preventing bladder infections and boosting the immune system. They are rich in vitamins, mainly such as vitamin C. The best way to reap the benefits of cranberries are to eat them fresh or to juice them. However they are very popular in baking.
They have a bit of a sour taste to them and is usually combine with sugar or something sweet to balance out the taste. In this recipe, I find that the goat cheese not only adds flavour but it also compliments the berries. I love using pearl goat cheese from https://www.bettine.nl/en/goat-s-cheese-saladcrumbles/bettine-goat-s-cheese-pearls-plain-100g-12340104-2 It's the perfect size to blend in with the cranberries. You could certainly use normal goat cheese and crumble it into smaller pieces.
Give this cranberry galette with goat cheese a go at your next brunch this holiday season.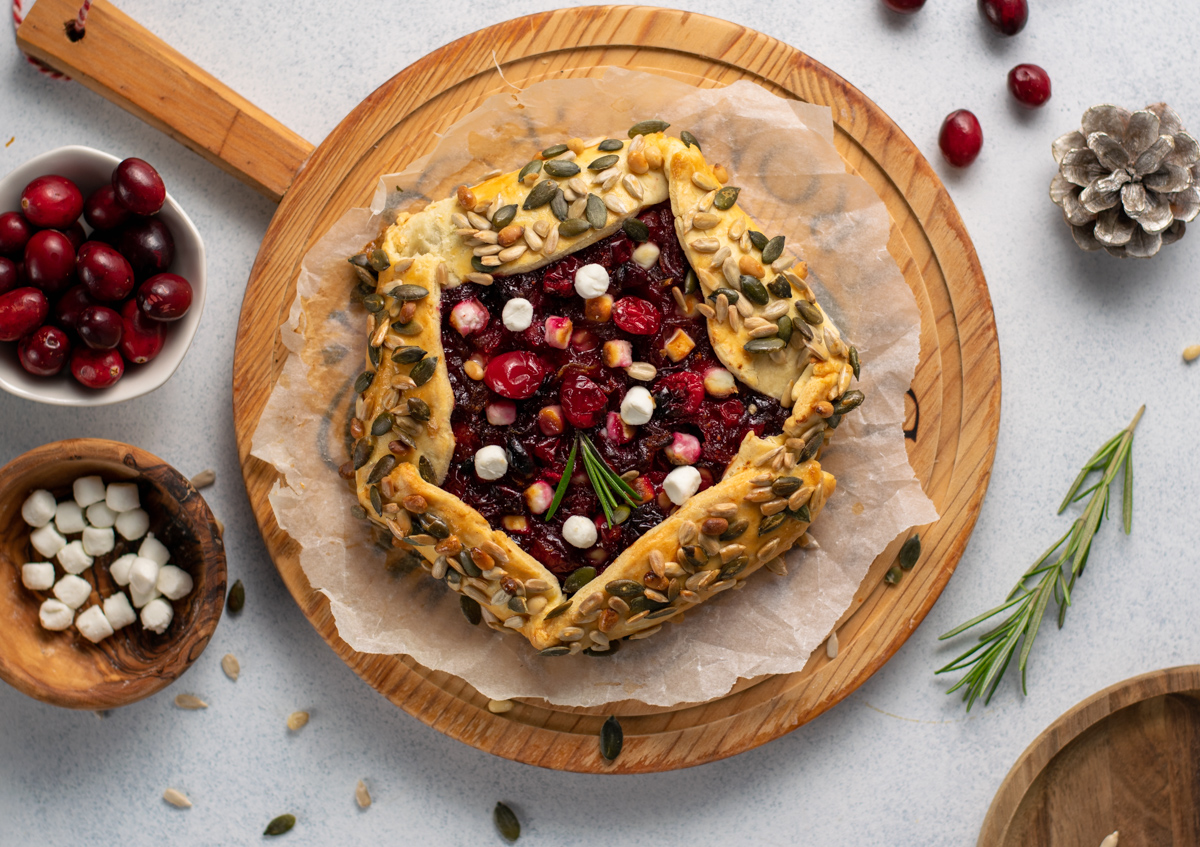 Print Recipe
Cranberry galette with goats cheese and caramelised onions
A sweet and savoury pie with fresh cranberries and goats cheese.
Ingredients
125g Flour
60g unsalted butter, cold and cubed
1 egg, beaten
4 tbsp water
100g onions
60g sugar
125g cranberries
75g goats cheese
30g mixed seeds
Instructions
2

Rub flour and butter between fingers until it resembles breadcrumbs.

3

Add half of the egg, 1 tablespoon of water and knead until smooth. Form a ball and wrap in clingwrap.

6

Heat oil in pan and fry onions slowly until browned.

7

Add sugar and 3 tablespoons of water to form a syrup.

8

Add cranberries and cook gently until cranberries just about pops.

11

Roll out the dough to form a circle.

12

Add half of the goats cheese, followed by the filling and top with remaining goats cheese in the middle, leaving about 5cm open from the edges.

13

Fold the edges in over the filling.

14

Brush the edges with egg and sprinkle with mixed seeds.

15

Bake for 25min until brown.
Nutrition
414 Calories

42,6g Carbohydrates

23,7g Fat

0,7g Fiber

12,6g Protein

11,4g Saturated fat

1,8mg Sodium

4,8g Sugar

8,2g Unsaturated fat
Notes
This makes for a small pie of about 15cm.