Dorade with roasted vegetables is a simple, yet easy and quick way to serve dinner in a jiffy!
I have to admit that it was only up until a few months ago that I ate this fish for the first time. And like a fish on a rod, I have been hooked at the first bite. The fish has a very full taste and is very juicy. If you like fatty fish like me, then this is something worth trying.
Dorade, also known as sea bream goes by many different names. There are many ways to prepare it but I like to keep it simple when it comes to fish. Simply pop all the ingredients in a tray and bake it in the oven.
Every Friday we have a lovely market in my neighbourhood with fresh foods such as fish, meats, chicken and so much more. I can easily spend a few hours there, just passing time and spend unnecessary money! Getting fresh fish seemed to be a good enough reason for me to go shopping there.
I must have gotten lost in translation when the guy asked me in Dutch if he should clean the fish. Because when I got home, the fish was gutted and cleaned on the inside but no scaled. Guess there's a first time for everything and with the help of good old YouTube, I scaled two fish.
Not exactly something I would do again. I had fish scales everywhere, including my hair. You live and you learn and at least I have learned a new Dutch word for scaling – "ontschubben"
Here's an easy tutorial on how to scale fish. https://www.youtube.com/watch?v=_PVKtayYE_Q
Serve this dorade with roasted vegetables with garlic bread, rice or fries. And feel free to play around with the veggies of your choice.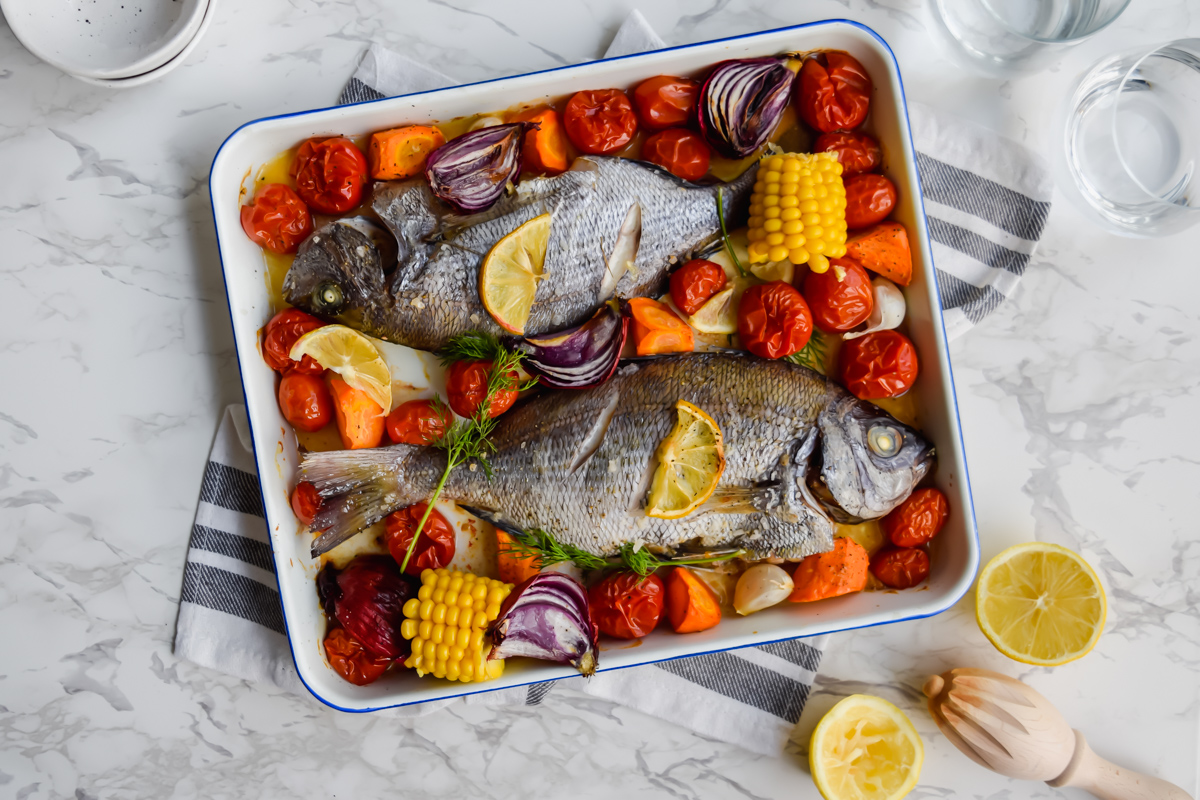 Print Recipe
Dorade with roasted vegetables
Oven roasted dorade fish with mixed vegetables.
Ingredients
2 dorade fish, of about 500g, gutted and scaled
400g cherry tomatoes,
2 large carrots, chopped in cubes
1 red onion, quartered
4 garlic cloves
4 tablespoons olive oil
sea salt to taste
1 lemon, cut in wedges
Instructions
1

1. Preheat the oven to 200 degrees C.

2

2. Toss all the vegetables in 2 tablespoons of oil.

3

3. Carefully cut 2 slices into the fish. Rub the remaining oil over the fish and sprinkle the fish with sea salt.

4

4. Place all the ingredients, including the garlic in a roasting tray and bake for 30-35min.

5

5. In a pot with boiling water, boil corn on a cob for about minutes and serve along with the fish and lemon wedges
Nutrition
591 Calories

8,8g Carbohydrates

41,5g Fat

2,6g Fiber

46,5g Protein

9,1g Saturated fat

153,5mg Sodium

5,9g Sugar

7,6g Unsaturated fat
Notes
Feel free to use vegetables of your choice.