Grape bread, a typical Italian flatbread that takes me on a trip down memory lane every time I eat it.
One of the perks of living in The Netherlands is that it's so easy to travel to other European countries. For that reason, I prefer traveling by car whenever possible. If there's a possibility of seeing another country on my journey, even if it means just driving through it, I want to see it. It is always a laugh when I try to translate and decipher road signs in different languages. And also probably the reason why I should remain the co-driver or we'll end up in the middle of nowhere. ?
Italy has to be my favourite holiday destination on this continent. We've done quite a few road trips from Holland to and through Italy. I could never get enough of the country and still I have so many places that I would like to see there. Italians are so friendly and chatty, even if you don't speak the language. The landscape of the country is so beautiful with all it's narrow, winding roads. And of course, it is food heaven.
On our last trip to Piedmont, we accidently walked into a wine festival happening in town called Alba. Can you imagine my excitement! I'll never say no a wine festival. This is where I was introduced to this grape bread. It is typically made during the grape harvest in Italy. It's basically focaccia with grapes in it. It is so simple but such a great way to spice up bread.
So with all the grapes I had at hand and not being able to travel to Italy this year, I chose to make this. But I hope to enjoy it in the near future in Italy itself again.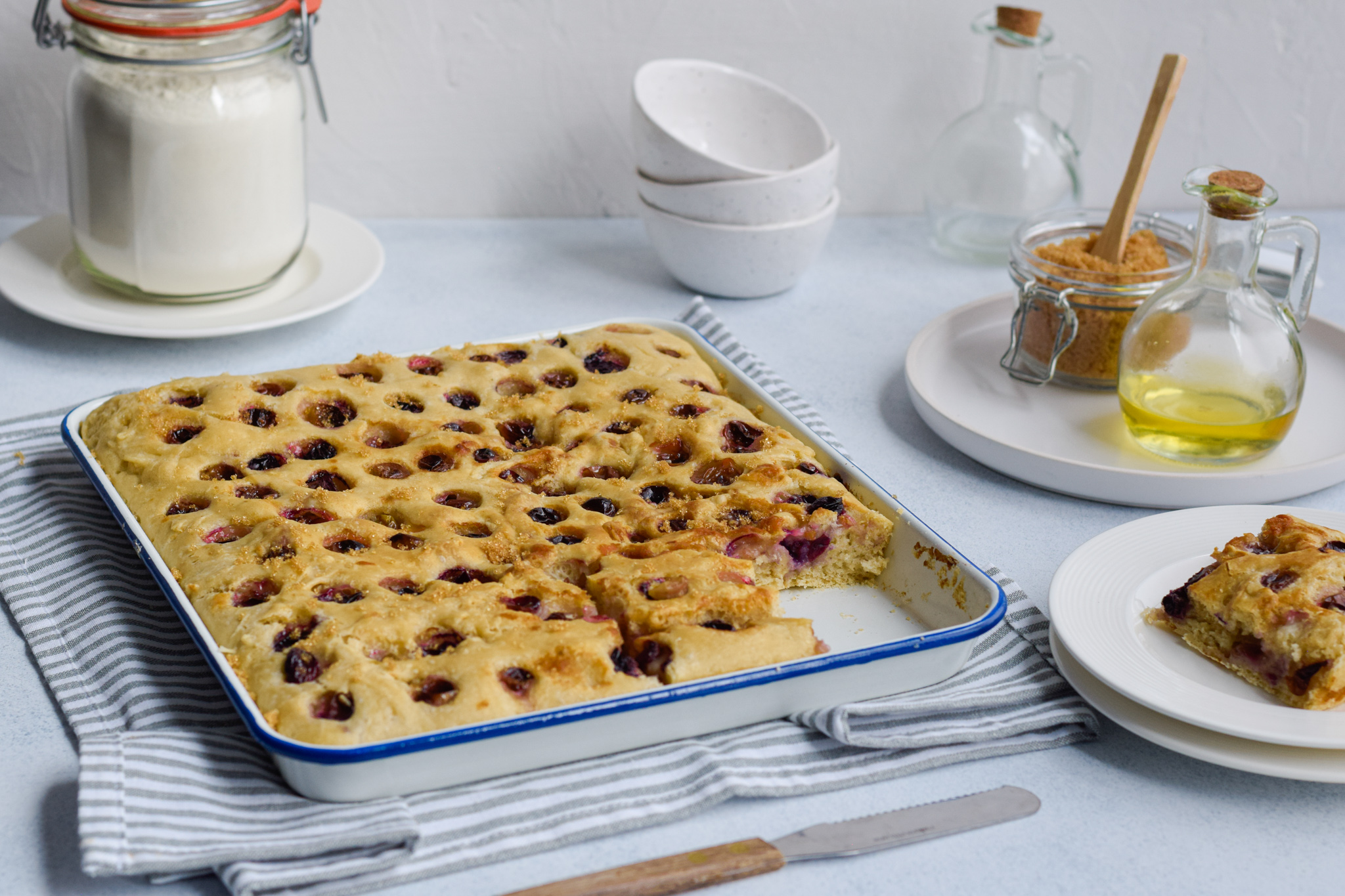 Print Recipe
Grape Bread
Italian flatbread with seedless grapes.
Ingredients
500g flour
14g yeast
320ml water
50ml olive oil
1 tsp salt
400g red seedless grapes, rinsed and patted dry
75g brown sugar
Instructions
1

1.Preheat the oven to 200 degrees C.

2

2. Mix flour, yeast and salt in a bowl. Mix water and 1/3 of the oil together.

3

3. Create a well in the flour mixture and add liquid bit by bit and mix with flour to create a dough.

4

4. On a floured surface, knead for about 10 minutes and place in a lightly oiled bowl. Cover with a damp tea towel in a warm area until the dough has doubled in size for about an hour.

5

5. Remove the dough from bowl with oiled hands. The dough will be very sticky. Divide the dough into 2 balls and roll out on a floured surface.

6

6. Place on an oiled baking tray and layer with half of the grapes. Sprinkle with half of the sugar. Cover with the remaining dough and layer with the rest of the grapes.

7

7. Brush with remaining oil, cover again and place in a warm area for another 30min.

9

8. Sprinkle with remaining sugar and serve when cooled with olive oil.
Nutrition
232 Calories

42,7g Carbohydrates

4,7g Fat

0,7g Fiber

5,3g Protein

0,7g Saturated fat

32,5mg Sodium

11,5g Sugar
Notes
The bread is best eaten on the day of making up until and including the day there after. Cover leftover bread with cling wrap.