Green Masala paste is a must have in every refrigerator. It's a great way to spice up any dish and add flavour with just a one dollop.
What is masala?
Masala is a mix of spices commonly used in dishes such as curries and pickles. Dry masala blends are blends of dried, ground spices. The spices are usually roasted first and then grinded with a mortar and pestle. Whilst wet masala usually consists of garlic, chillies, ginger or other fresh herbs to make a masala paste.
There are different variations of masala for different dishes. It also varies in different cultures. This is a Cape Malay version commonly used in Cape Town, South Africa. Cape Malay curries are usually more sweeter and milder.
The paste can be a lifesaver as it cut back on the cooking time. No need to prepare separate ingredients such as garlic and ginger again when you make curries.
How to make homemade green masala?
Green masala paste is so easy to make. It's simply a matter of popping everything into a blender. Be sure to use the freshest chillies and coriander to ensure for a beautiful green colour. Green peppers also lasts much longer. The heat level can also be adjusted accordingly. If you prefer something less spicy, then add less chillies. Or remove the flesh and seeds from the chillies before blending it.
How to cook with green masala paste?
Omit spices in curry with masala paste.
Use to marinade meat or to add to marinades
Add to seafood dishes such as prawn or prawn curry.
Masala paste can be made in advance. A little goes a long way as you only need a few spoons to spike up your dish. Store it in clean weck jars in the fridge. The paste can be kept in the fridge for a few months.
For more ways using green masala paste, try the following recipes:
Zucchini Noodles with Shrimps and Goat Cheese
For more curry recipes, Anusha from Anusha loves spice does some wonderful curries such as this one. https://anushalovesspice.com/sri-lankan-chicken-and-potato-curry/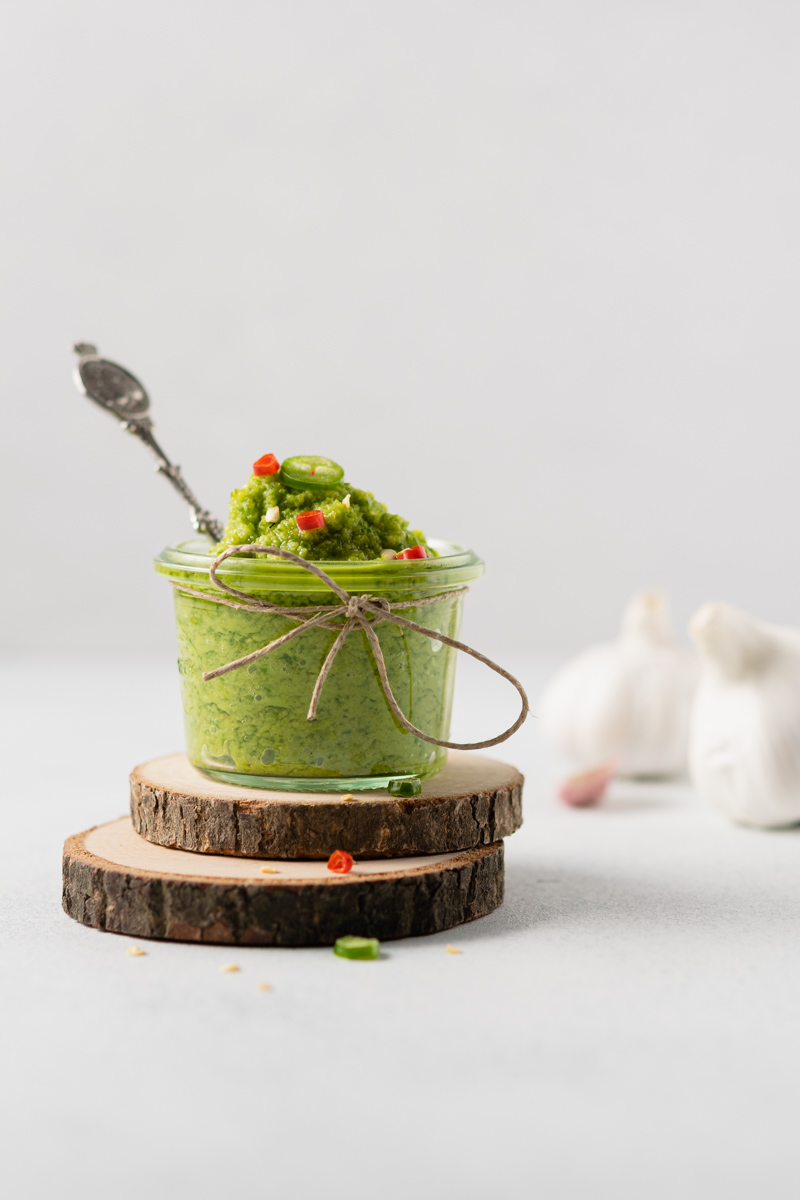 Print Recipe
Green Masala Paste
A spicy chilli paste that adds extra zing to any dish.
Ingredients
50g green chillies
15g garlic
25g ginger
30g coriander
1/2 tsp turmeric
20 ml sunflower oil
1 tbsp water
Instructions
1

1. Slice the chillies length wise. Remove seeds and keep aside.

2

2. Slice the garlic cloves in half.

3

3. Peel and slice the ginger.

4

4. Add all the ingredients and half of the chilly seeds into a blender and blend until smooth.

5

5. Taste and add more chilly seeds to taste.

6

5. Transfer into clean airtight weck jars and store in fridge.
Nutrition
277 Calories

9,1g Carbohydrates

18,9g Fat

3,6g Fiber

2,7g Protein

2g Saturated fat

0,9mg Sodium

0,3g Sugar

0,2g Unsaturated fat