Quench your thirst with this juicy Tomato Pomegranate Salad during the warmer months. A perfect side dish to serve along with the barbeque or to fill up your picnic basket.
Tomatoes and salads goes hand in hand. But they are also great on their own and makes a pretty juicy stand alone salad. Any type of tomatoes will do. My preference goes out to honey cherry tomatoes or heirloom tomatoes. Jazz it up by using a mixture of different colour tomatoes.
What are the ingredients to make this juicy tomato pomegranate salad?
This simple, yet delicious salad requires only 6 ingredients and some you might already have in your pantry.
Cherry Tomatoes
Pomegranate
Mint
Olive oil
Pomegranate Molasses
Honey
Tips for mixing the vinaigrette
Vinaigrettes can be make in advance and stored in the fridge. Simply add the ingredients to a mason jars with the lid on and give it a good shake. Shake until the oil and liquids have some how combined. Another option is to just put it in the blender. Or, and my personal favourite, is to whisk it together a mini whisk. It's small and easy to clean.
How to deseed a pomegranate?
Deseeding a pomegranate can seem like a complicated task but it certainly is not. However, if done incorrectly, you could end up with juice squirting in all directions leaving red stains everywhere! We don't want that!
Slice into the skin of the bottom edge of the pomegranate. Do not cut through it, to avoid damaging the seeds.
Carefully pull it off. Slice in 4 into the skin along the veins / white skin on the inside. Again, avoid cutting into it.
Gently tear it apart.
Take one piece, hold it in one hand with the cut side over a large bowl.
Give it a slight squeeze to loosen the seeds lightly.
Tap the pomegranate with a wooden spoon until the seeds falls into the bowl.
Discard any white flesh that fell into the bowl.
Let me know in the comments below if you have tried this salad and tag me on Instagram if managed to capture it.
For more picnic basket fillers, check out:
DISCLAIMER: Links included in this description might be affiliate links. If you make a purchase with the links I provide, I may receive a small commission at no additional charge to you!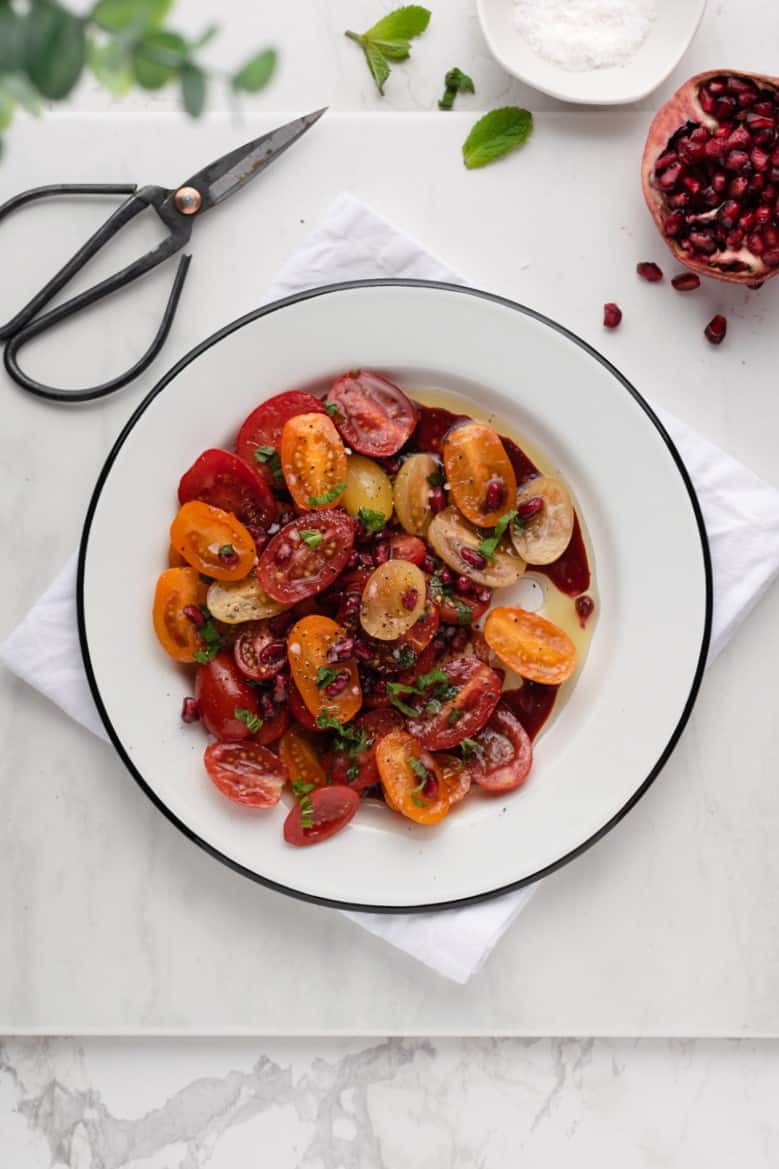 Print Recipe
Juicy Tomato Pomegranate Salad
A mouth watering tomato salad with a pomegranate vinaigrette.
Ingredients
250g Cherry tomatoes
1/2 Pomegranate
5g Mint
30ml Extra virgin olive oil
10ml Pomegranate molasses
1 tsp Honey
salt and pepper, to taste
Instructions
1

1. In a salad bowl, whisk together oil, molasses and honey. Season with salt and pepper.

2

2. Rinse the tomatoes and slice in half. Add it to the salad bowl.

3

3. Add the tomatoes and pomegranate seeds to the bowl and mix together.

4

4. Shred the mint and add to the salad.
Nutrition
209 Calories

15,2g Carbohydrates

15g Fat

3,1g Fiber

1,5g Protein

2,1g Saturated fat

1,3mg Sodium

12,7g Sugar

12,3g Unsaturated fat
Notes
Save any leftover juice from the pomegranate and sprinkle it over the salad.