This mango strawberry green smoothie is so creamy and delicious. Packed with lots of Vitamin C and healthy fats. Drink it on a regular basis and you'll have glowing skin this summer.
Speaking of summer, the summer break has started in Holland and it sure feels strange. Most Dutch people have opted for a staycation in our beautiful little country. The Dutch are notorious campers, so every camping is fully booked. Thank goodness we have lots of parks, to just hang out and get sun or have a lovely picnic.
Most of our restrictions have been lifted and we have a lot of freedom to move. Our terraces and restaurants are open again. Which is great, given that it is the holiday season. But people are becoming more relaxed about the virus and seem to think that it is gone for good. I am certainly happy that things are going well here and that we have so much freedom. But I do fear what's to come after the school break. Will the virus return when everyone comes back from their holidays? Fingers crossed. In the meantime, we should take care of our health now while we are still healthy.
This mango strawberry green smoothie is one way of keeping your immune system strong. Mangoes and strawberries are not only Vitamin C bombs, they are delicious too. To drink it with water or juice? I prefer drinking green smoothies with water. But when you are starting out, feel free to experiment with juice. Note though that most juices contains lots of sugar. So try to build it down to water over time. Your skin and waistline will thank you.
Did I mention that I love mango? For more ways to enjoy it, check out my other recipes. https://www.galleyofgail.com/2020/07/chia-mango-parfaits/
In the mean time, stay safe everyone. Wash hands, keep distance and take care of each other. And I hope you enjoy this smoothie.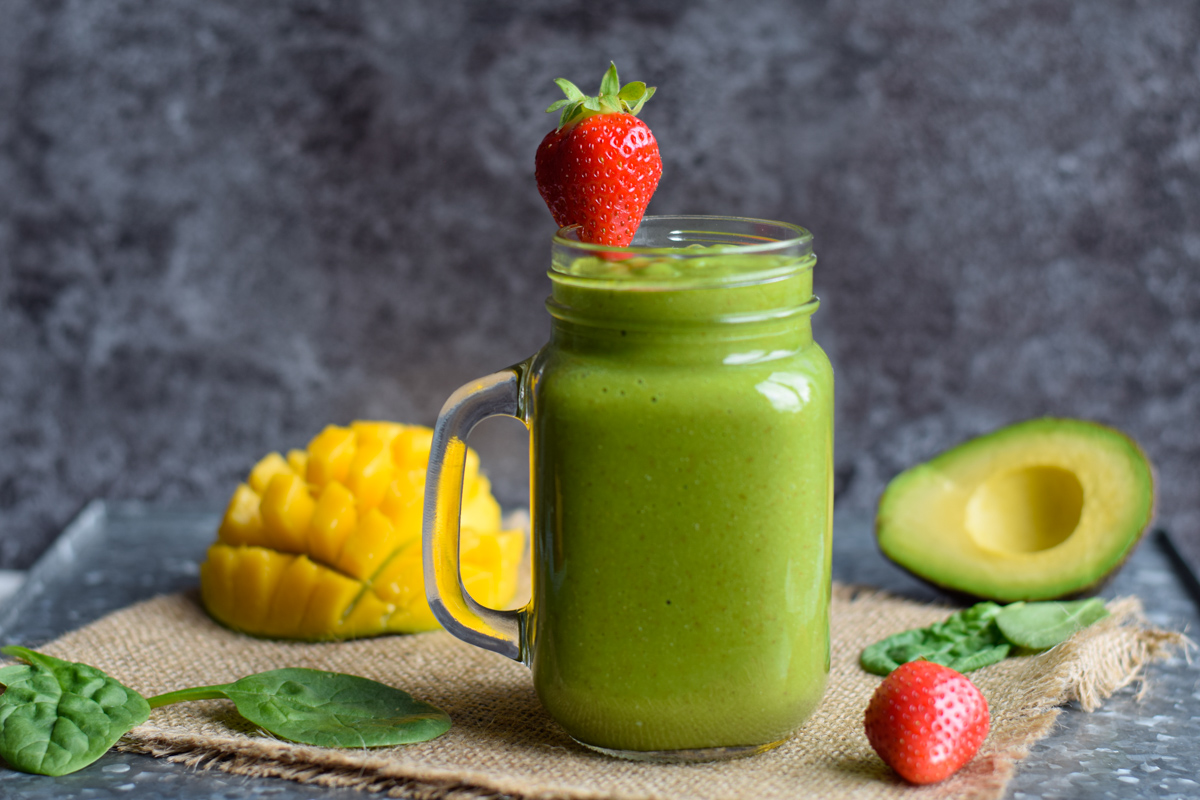 Print Recipe
Mango Green Smoothie
This smoothie is a Vitamin C bomb with healthy fats for a glowing skin.
Ingredients
50g spinach
80g strawberries, fresh or frozen
100g mango, cubed
80g avocado, fresh or frozen
1 teaspoon chia seeds
150ml water
Instructions
1

1. Add spinach, strawberries, mango, avocado, water in a blender and blend until smooth.

2

2. Divide over 2 glasses and top with chia seeds.
Nutrition
138 Calories

15,2g Carbohydrates

7,4g Fat

5,8g Fiber

3,4g Protein

1g Saturated fat

10,4g Sugar

5,7g Unsaturated fat
Notes
Choose at least one frozen fruit to chill the smoothie, as it will make a big difference to the taste.