Mini berry crumble made from almond flavoured dough, served with fresh whipped cream. Need I say more!
And just like that August came to an end and we have 4 more months left of 2020. I can not decide if this year has flown by or if it was dragging. At some point it felt like time stood still and it seemed like we were just watching paint dry on a wall. And all of a sudden, boom! We're in September.
But if there's one thing that is sure, then it's that time waits for no one and it goes on. There is no point in sulking over things that we cannot change. For example, finally a year of great weather in Holland and not being able to enjoy it to the fullest. Or having tickets to fly to South Africa to see my family after 5 years and then being forced to cancel it. Cry me a river for that one!
I've settled on my theme song for 2020. Yes, if it's gonna be a year to remember, then it's gonna need a theme song. And mine is Alanis Morissette – Ironic. Cause it's all just so ironic. "It's like rain on your wedding day. It's a free ride when you've already paid." You know? That song!
Well to stay on the positive side, we are still rocking temperatures around 20 degrees in Holland. And despite the rain, I will still be holding on to summer for dear life and squeeze in all my favourite summer dishes like these colourful mini berry crumble pies. I cannot express how much I love berries. Hopefully, you are able to make your favourite seasonal treats one last time.
If you're team berries and , check out my Berry Smoothie Bowls – Sunshine in a bowl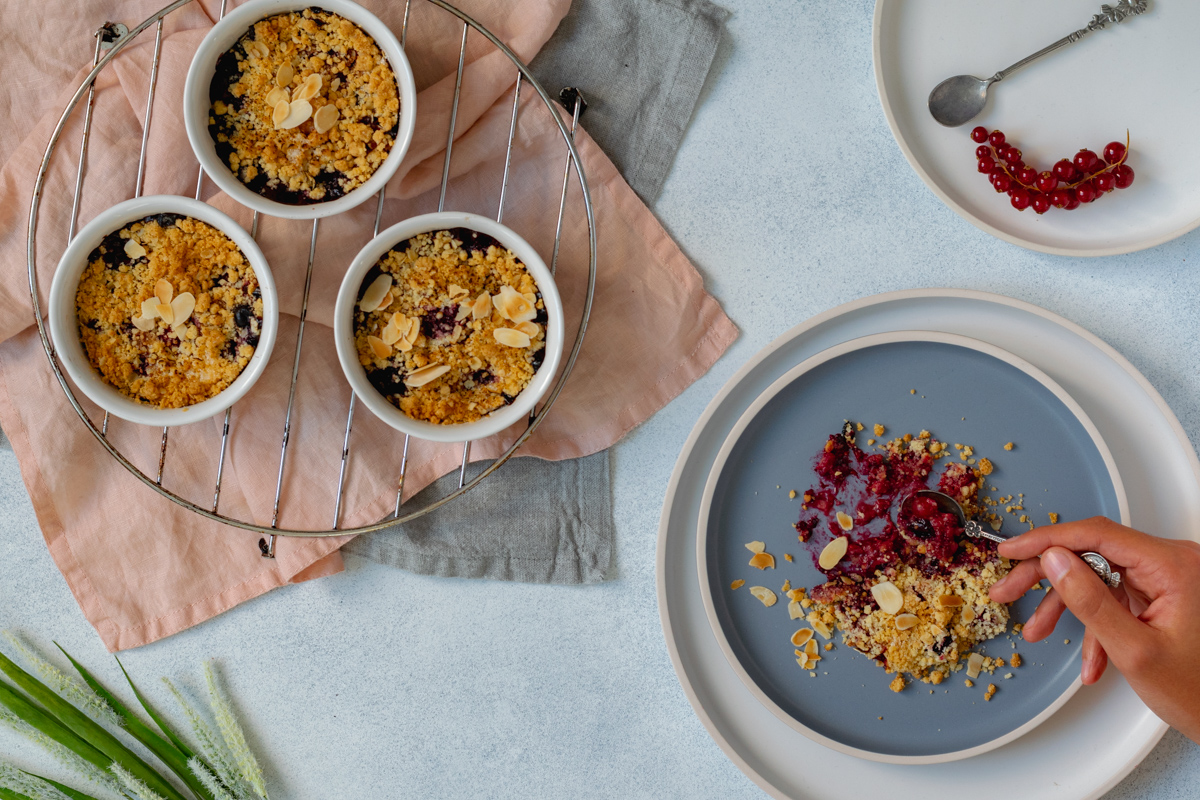 Print Recipe
Mini Berry Crumble
Individual berry pies with an almond crumble.
Ingredients
50g flour
50g almond flour
40g sugar
50g butter, cold and cubed
300g mixed Berries
25g vanilla sugar
25g almond flakes, toasted
Fresh Cream, to serve
Instructions
1

1. Preheat oven to 180 degrees C.

2

2. Toast the almonds in a pan until slightly brown.

3

3. Mix flour, almond flour and sugar together in a bowl.

4

4. Add butter and rub through fingers until the mixture resembles breadcrumbs.

5

5. In a sperate bowl, mix berries and vanilla sugar.

6

6. Divide berry mixture over 4 ramekins.

7

7. Top with crumble and bake for 30 minutes.

8

Serve with whipped cream and flaked almonds.
Nutrition
349 Calories

31,3g Carbohydrates

20,9g Fat

3,5g Fiber

7,1g Protein

7,3g Saturated fat

2,5mg Sodium

11,6g Sugar
Notes
Add more flour if the mixture is too wet to resemble crumbs. Leftover dough can be wrapped in cling wrap and stored in the refrigerator. Alternatively, make one large pie.