Mini chicken pies that can be made upfront and be stored as easy go-to freezer meals. Serve it as lunch or dinner with a salad on the side.
I've been craving chicken pie for a while now. It must be the weather as the temperature has dropped significantly in The Netherlands. The sun is gone by 16h30! Short days and longer nights are here. Not complaining though. With our lockdown continuing throughout the holiday season, it's not like we can go anywhere. ?‍♀️
Chicken pie can seem very daunting to make, if you're doing it from scratch and it can take quite some time. However, as much as I love homemade pastries, I am not a fan of making it. I avoid working with dough as much as I can. Therefore I opted to use store bought puff pastry which is perfect with this pie.
If you're in The Netherlands, I recommend trying pastry from Koopmans. https://www.koopmans.com/producten/bladerdeeg/
Leftover roast chicken works well in this pie. Otherwise, chicken filet will of course work as well. I worked with what I had at home but you can surely play around with ingredients. However, if you ask me – chicken pie cannot miss peas and carrots. I used onions but you can certainly swop onions for leeks and add some stick celery. Again, work with what you have.
These mini chicken pies are ideal to freeze in as well. Simply allow the filling to cool completely before filling up the pastry. Close and cover the top of the pie with a layer of pastry. Seal the edges with a fork and with a sharp knife, slice a cross at the top. Wrap the pie in foil tightly and freeze in.
These pies do not need to be defrosted upfront. Simply bake them from frozen at 200C for 20 minutes. And you're good to go!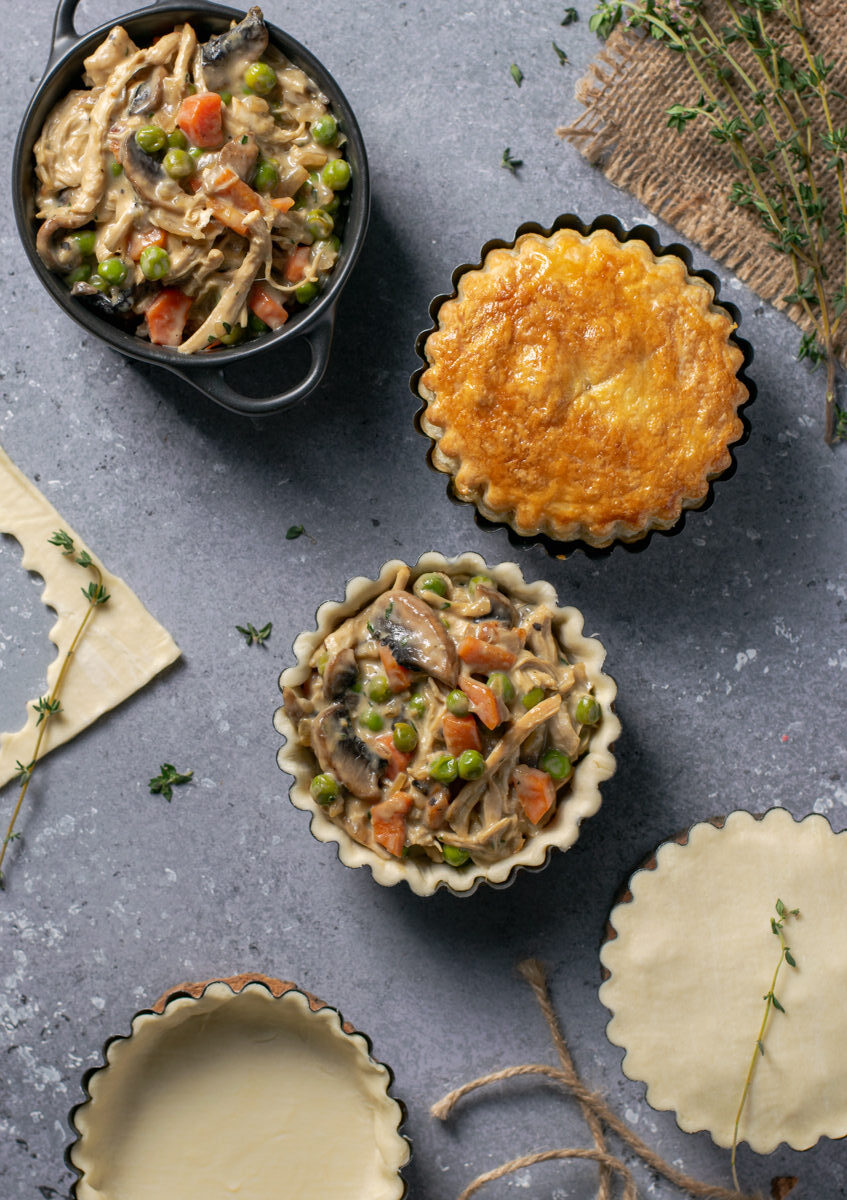 Print Recipe
Mini Chicken Pies
Savoury chicken and vegetable pies.
Ingredients
450g puff pastry
3 tbsp butter
300g chicken filet
100g onions
2 garlic cloves
100g button mushrooms, cleaned and sliced
100g carrot, halved and sliced
100g peas
1 tsp thyme, finely chopped
250ml chicken stock
1 tbsp flour
150ml sour cream
salt and pepper, to taste
1 egg, beaten
Instructions
1

1. Preheat the oven to 200C

2

2. In a pan, heat 2 tablespoons of butter and fry the chicken until tender.

3

3. Remove from pan and shred the chicken finely with a fork.

4

4. In the same pan, add 1 tablespoon of butter and scrape the remains from the chicken with the butter.

5

4. Add onions, garlic and mushrooms and fry for 5 minutes. Add half of the chicken stock, carrot, peas and thyme and cook for 5

7

5. Add flour to a small bowl and gradually add the leftover chicken stock to make a paste.

8

6. Add the paste to the pan with the chicken filling and stir until for a few minutes, until the sauce has thickened. Stir in sour cream.

9

7. Roll out the pastry and cover the pie molds. Fill it with the chicken filling.

10

8. Cover the pies with another layer of pastry and press the edges together with a fork.

11

9. Brush with egg and bake in oven for 20 minutes.
Nutrition
250 Calories

19,2g Carbohydrates

13,6g Fat

0,7g Fiber

11,8g Protein

2,5g Saturated fat

0,8mg Sodium

0,6g Sugar

6,8g Unsaturated fat
Notes
- In this recipe, I used 10cm pie molds of 2cm deep. - For freezer tips, see text above. - Frozen pies might need an extra 5 minutes of baking. To bake frozen pies, lower the temperature to 180C and bake 20-25min. Keep an eye on it the last 5 minutes to prevent the crust from getting too dark.