This refreshing pear salad with blue cheese is lovely transition from summer into Autumn.
Every year a few farms in The Netherlands are open to the public for apple and pear picking. It's a great family outing for young and old with lots of activities happening on the farms. Other than fruit picking, they have pony rides, jumping castles, face paints and many more things to do.
There are quite a few farms to visit, from big to small. My preference goes out to the smaller farms that are less crowded. They are usually in areas that I never get to, which makes it more interesting. On route, there are always interesting things and places to discover.
I like to visit Boer Erik in Loenen aan de Vecht. It is not too busy with enough entertainment. But if you are looking for something more bigger, then Olmenhorst is a must. They have loads of entertainment and workshops of all sorts like candle making and clay painting.
I enjoy the farmer's markets at these farms to check out their produce. I'm always amazed at how every farm has it's own version of apple pie. And nothing beats fresh juice as well. I usually leave with a heavy bag of fruits and lots of small goodies from the market.
This year I managed to get a big bag of pears. And with summer ending in The Netherlands, I thought I would bid it farewell with this beautiful summer pear salad with blue cheese and sage dressing. The combination of blue cheese, sage and pear matches perfectly together. It is one of my favourite summer salads.
If you are a fan of fruity salads, be sure to check out my Strawberry Salad with Prosciutto and remember to tag me if you make this.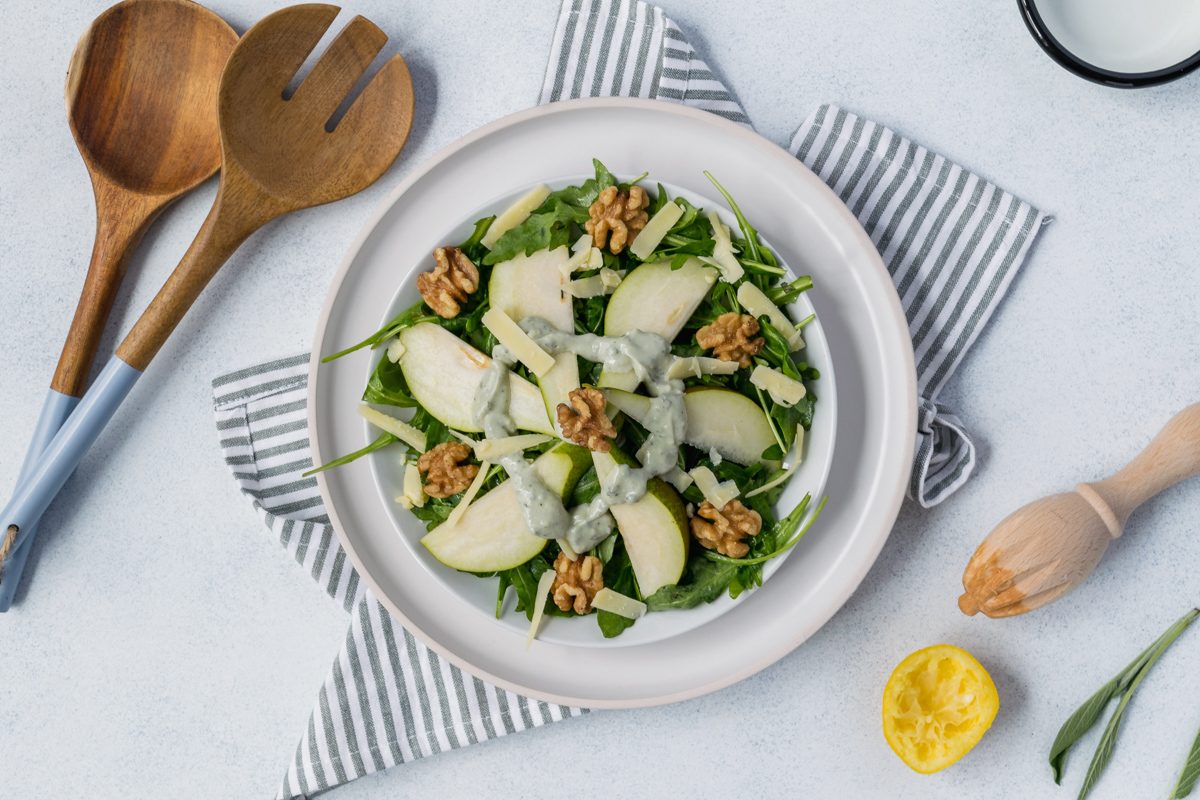 Print Recipe
Pear Salad with Blue Cheese and Sage
A fruity salad with a blue cheese dressing.
Ingredients
100g blue cheese
60ml olive oil
1 tbsp crème fraiche
10g fresh sage, sliced
200g arugula
4 pears
100g Parmesan cheese, shaved
100g walnuts
juice of 1 lemon
Instructions
1

1. In a pan, toast the the walnuts for about 5min on a medium heat. Put aside to cool.

2

2. For the dressing, blend the blue cheese, olive oil, crème fraiche, sage and 1 tablespoon of lemon juice until smooth.

3

3. Slice the pears in the length and sprinkle with the remaining lemon juice.

4

4. Assemble the salad by dividing the arugula over 4 plates. Layer the pears over the salad and top dressing.

5

5. Sprinkle with walnuts and Parmesan cheese. Serve immediately.
Nutrition
628 Calories

30g Carbohydrates

47g Fat

6,8g Fiber

16,9g Protein

14,6g Saturated fat

0,9mg Sodium

22,2g Sugar

0,4g Unsaturated fat