Beat the heat with this refreshing Watermelon Cranberry Mocktail. Serve it on lots of ice with an umbrella and a straw and you'll be in holiday mode immediately.
What is summer without watermelons? Watermelons are one of the number one refreshing treats on a hot summers day. In order to make a juice from it, you just need to add it to a blender and that's it! But to make watermelon juice even more refreshing, you could add things like limes, lemons, mint or spike it with your favourite bubbles.
What are the ingredients for this refreshing watermelon cranberry mocktail?
Watermelon
Cranberry juice
Limes
Mint
Ice
How to turn this watermelon mocktail into a cocktail?
In need of a rather more adult version, then simply add a shot of your favourite vodka to it. Add the vodka to a long tall glass over ice. Then top it with the blended juice.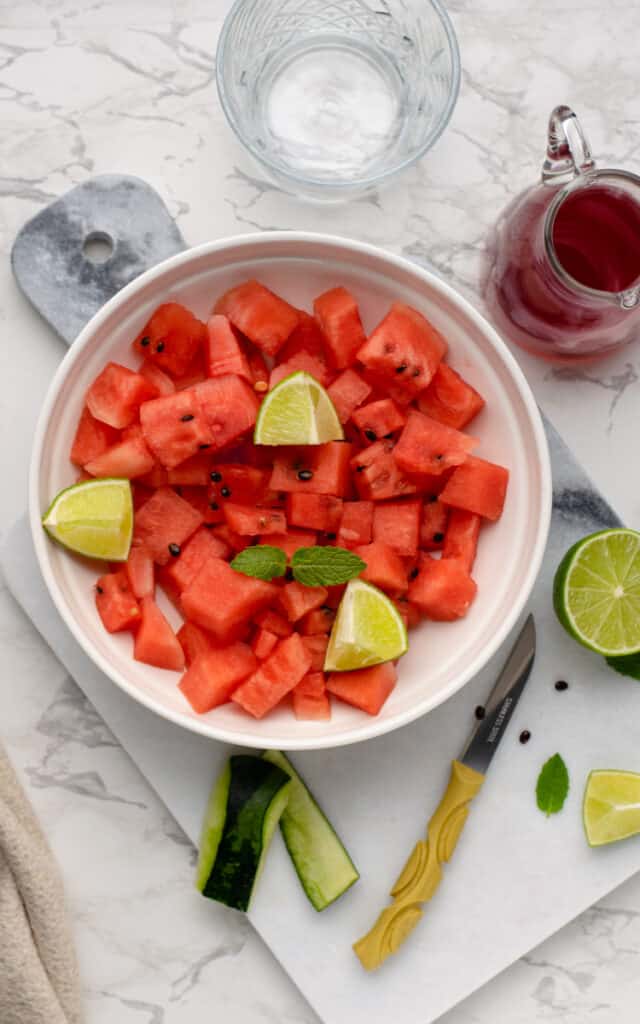 How to cut a watermelon?
There are many ways to cut watermelon for decorative purposes. For this recipe, you simply need to cubed it so that it can fit into the blender. You could use a melon baller set but if you don't have it, a sharp knife and some simple steps will work.
Lay the watermelon on a sturdy surface with the stems facing horizontally.
Slice the watermelon, turning it as you do so. There is no need to slice right through the watermelon.
Once you have come full circle with the slice, simply slice a bit deeper through it until it splits.
Turn the watermelon on the flat side. It is now much easier to slice off the skin from the top to the bottom.
Once the skin and white parts are removed, slice the watermelon into slices and then cube it further.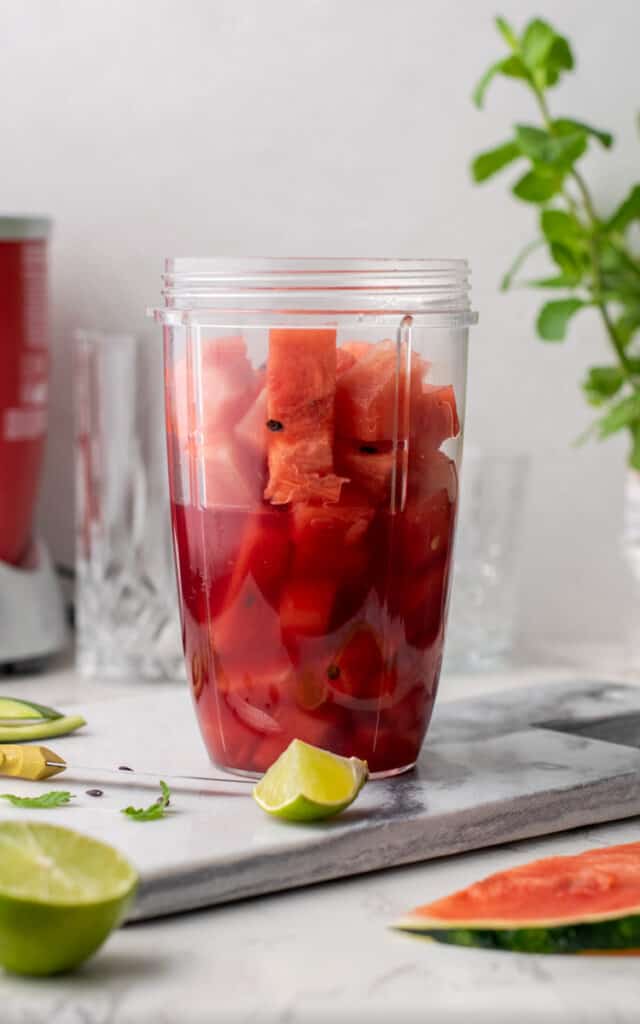 Cook's tips
If the watermelon has lots of seeds, pour it through a sieve after blending and before adding the rest of the ingredients.
For more watermelon recipes:
DISCLAIMER: Links included in this description might be affiliate links. If you make a purchase with the links I provide, I may receive a small commission at no additional charge to you!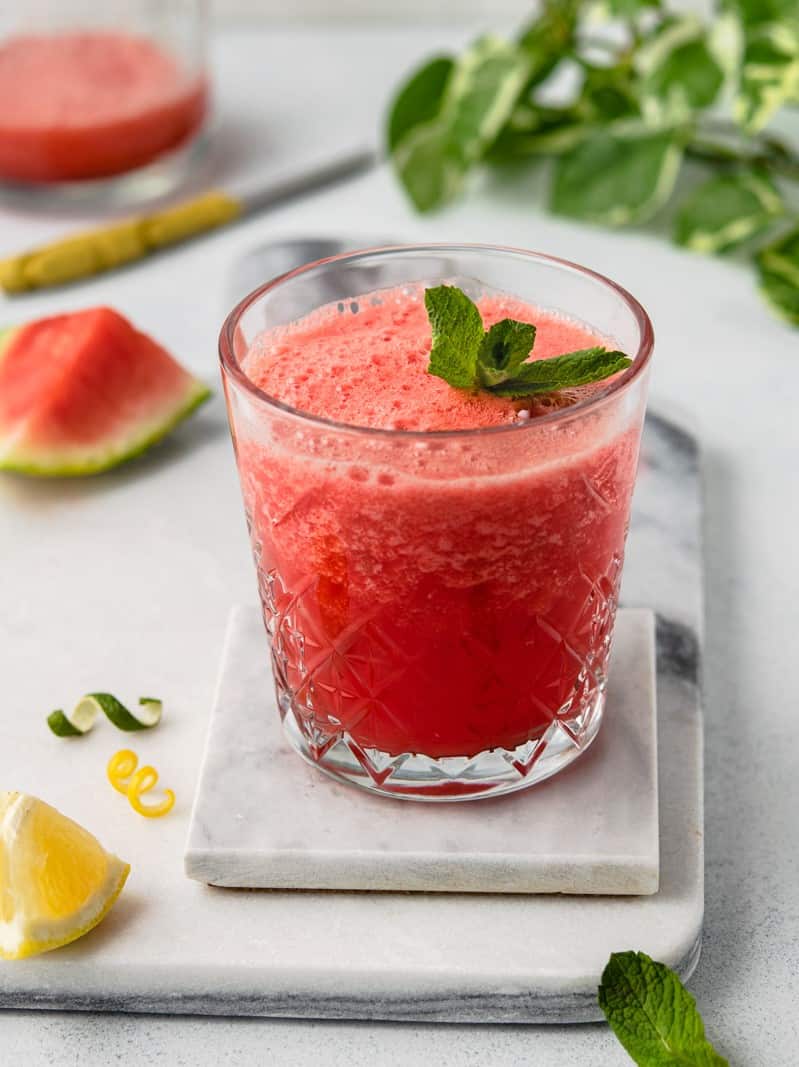 Print Recipe
Refreshing Watermelon Cranberry Mocktail
A mocktail with watermelon and cranberry juice.
Ingredients
500g watermelon, cubed with skin removed
400ml cranberry juice
10g mint leaves
1 lime
2 cups of ice cubes
Instructions
1

1. Peel half of the lime and add it to the blender with the watermelon.

2

2. Add the half of the ice cubes and top with the cranberry juice.

3

3. Cover and blend until smooth.

4

4. Add mint leaves and lime slices to tall glasses and muddle slightly.

5

5. Add ice and top with the watermelon juice.
Nutrition
99 Calories

22,5g Carbohydrates

0,2g Fat

0,8g Fiber

1,4g Protein

0,3mg Sodium

11,1g Sugar
Notes
If the watermelon has lots of seeds, pour it through a sieve after blending and before adding the rest of the ingredients.