A spiced pumpkin cake with various warm spices, dripped with caramel – perfect with a cup of tea, snuggled up on the couch!
Recently, I joined a food photography challenge on social media. You have a few weeks to prepare for the challenge and have to submit it on a certain date. I enjoy participating as it really challenges me to come up with new recipe ideas. It is also very interesting to see all the creativity on that day when the hashtag is trending.
This challenge was all about Fall desserts. The first thing that came to mind were spices. I love the smell of warm spices such as cinnamon, cardamom, ginger etc. And I knew that is something I wanted to incorporate into my dish. That is how this cake was born.
Round this time of the year in The Netherlands, "speculaas" and "koek en kruiden" spices are very popular with Sinterklaas coming up. For this recipe I used Verstegen Koek en Speculaas spices. It is mix of spices such as cinnamon, nutmeg, cardamom and cloves. It is probably one of my favourite spices to bake with during Autumn and through the holiday season. https://shop.verstegen.nl/specerijenmix-voor-koek-en-speculaas/
To my surprise, caramel is something that is not easy to find in Holland. I always need to boil condensed milk to make caramel. However, I did not have caramel or condensed milk at hand and nor did I have the time to pick some up. I did however have a Milka Caramel Slab and decided to melt it with a dash of cream and drizzle it in and over the cake. I swear I could hear this spiced pumpkin cake thank me. ?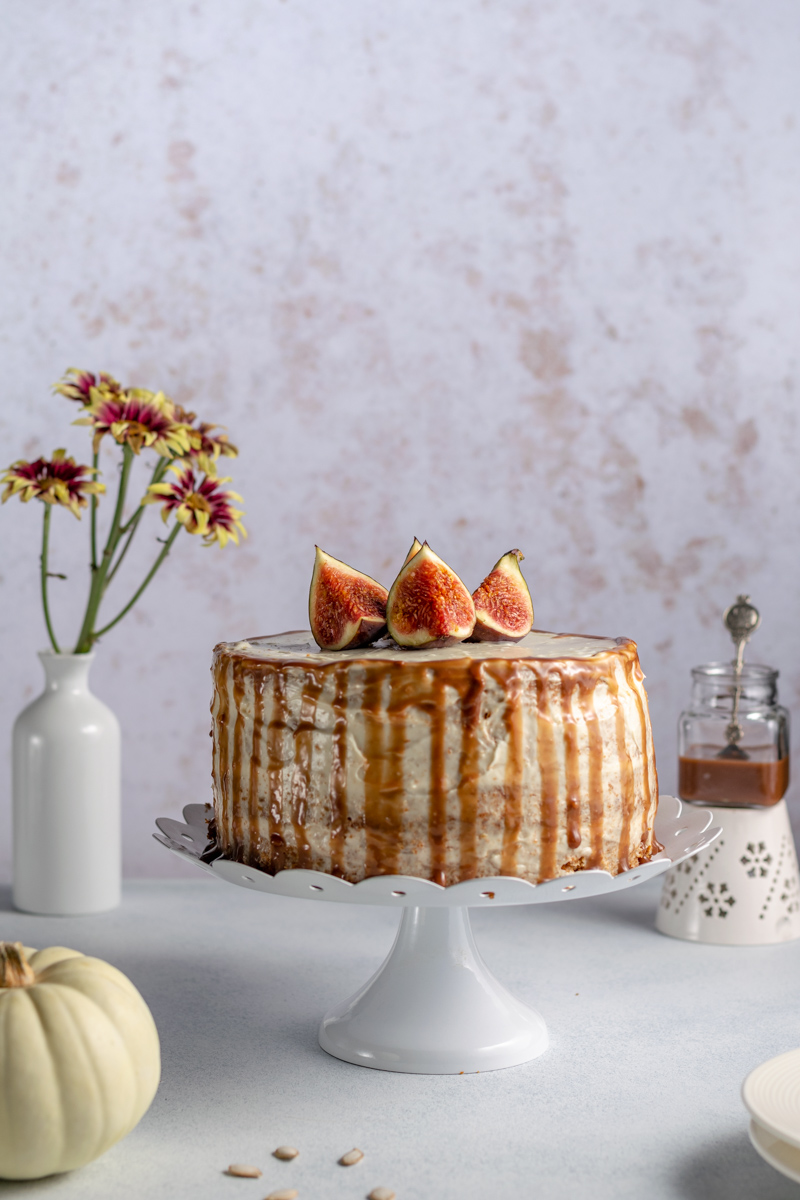 Print Recipe
Spiced Pumpkin Cake
A soft, moist pumpkin cake with rich, warm spices.
Ingredients
For one cake
200g self raising flour
150g brown sugar
1 tsp baking powder
10g Verstegen Koek & Speculaaskruiden
Salt
60g butter (soft)
2 Eggs
200g pumpkin puree
60ml oil
200ml almond milk
Frosting:
200g Mon chou cream cheese
60g icing sugar
Caramel (optional)
Instructions
1

1. Preheat the oven to 180 degrees C.

2

2. Line an 18cm baking tin with baking paper and grease it.

3

3. Sift all the dry ingredients into a bowl and mix in butter.

4

4. Mix in eggs one by one.

5

5. Blend all the wet ingredients and add to the flour mixture.

6

6. Pour into baking tin and bake for 35-40 minutes. Test with a toothpick to see if the cake is still wet on the inside. Bake longer, if needed.

7

7. For the frosting, mix icing sugar and cheese together. Once the cake is cooled, spread frosting over cake evenly and drizzle with caramel.
Nutrition
415 Calories

47,5g Carbohydrates

23,9g Fat

0,7g Fiber

9g Protein

10,1g Saturated fat

285mg Sodium

27,8g Sugar

0,3g Unsaturated fat
Notes
- Pumpkin spice or a mix of cinnamon and nutmeg can be used in place of speculaas spices. - For the caramel drizzle, I used a Milka Caramel bar. Normal caramel can be used. - Calorie count is excluding the caramel drizzle and figs.