This hot and spicy watermelon salad is a must to add to your collection of summer salads. Try it as a side dish at a barbeque or simply on it's own.
Summer is slowly coming to an end and so is watermelon season. We're squeezing in all our favourite watermelon recipes before Autumn kicks in like this watermelon salad And any leftover watermelons will be used to make this refreshing juice.
What makes this watermelon feta salad spicy.
A heap full of jalapeños! Yes, you don't need to shy away from the peppers. The juiciness of the watermelon immediately puts the heat out and leaves just the right amount of sting on the tongue. You could use any of your favourite peppers to suit you spice level. Find out more here on the different peppers and the heat levels.
What are the ingredients for this watermelon feta salad?
Watermelon
Feta Cheese
Jalapeños
Olive Oil
White wine vinegar
Lemon Juice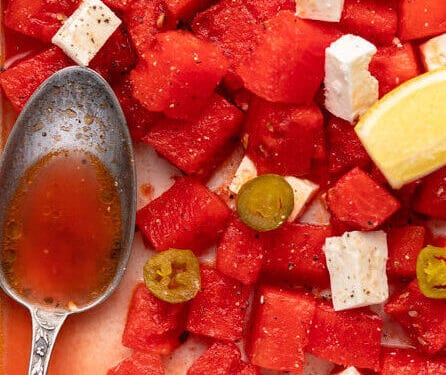 Substitutes for the ingredients
Replace the feta cheese with white cheese or goats cheese.
If peppers are too spicy for you or your guests, replace it with thinly sliced onions.
Add sliced cucumbers.
Garnish with mint or coriander.
Chef's tips
Add the cheese just before serving the salad. Reserving it until the last minute will prevent the cheese from getting soggy. Having said that, serve the salad immediately.
A watermelon set is a handy kitchen gadget to have. It makes slicing so much easier and works great for decorations such as in this watermelon salad.
Give this salad a try and if you do, leave me comment below to let me know if you liked it. I appreciate your feedback and very curious to your version of it.
DISCLAIMER: Links included in this description might be affiliate links. If you make a purchase with the links I provide, I may receive a small commission at no additional charge to you!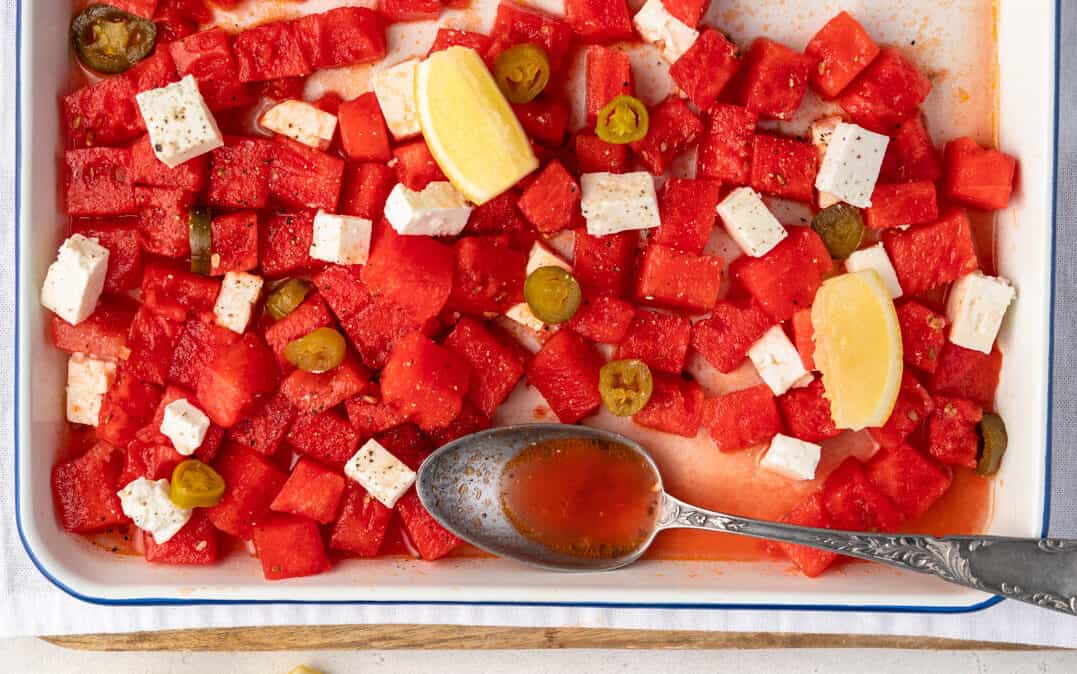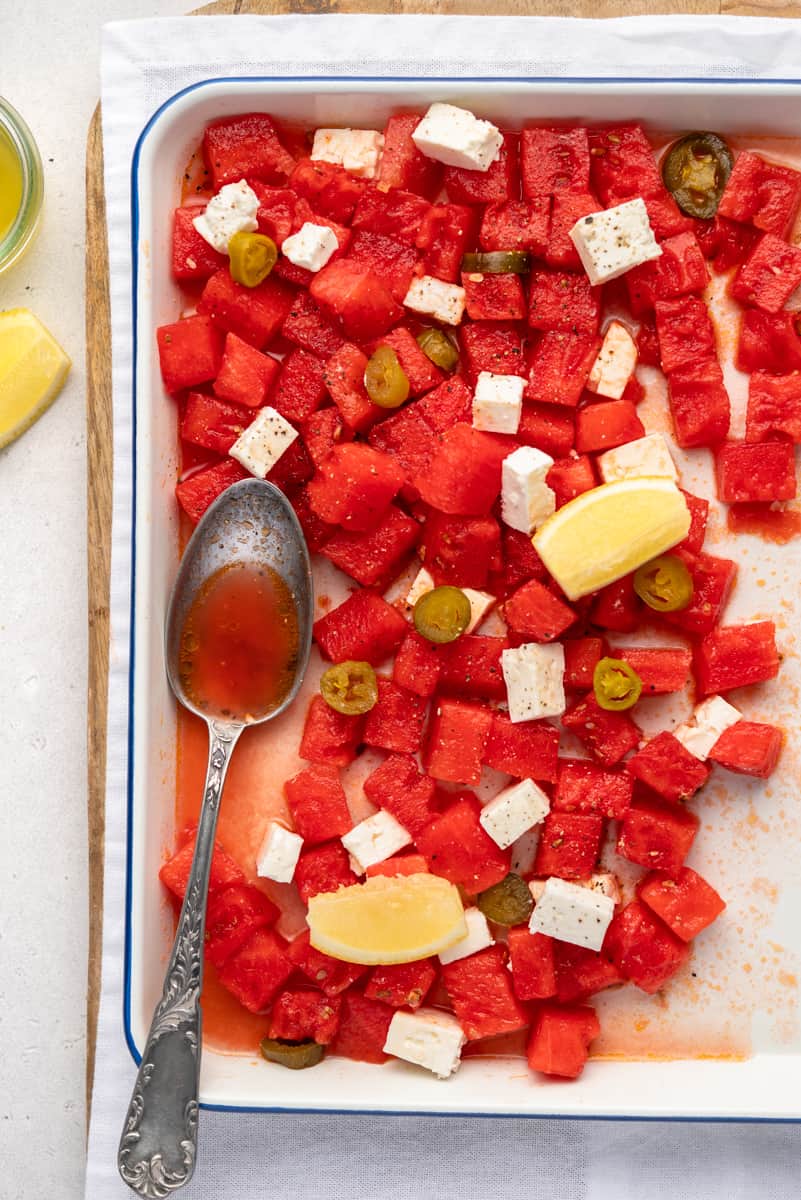 Print Recipe
Spicy Watermelon Feta Salad
A mouth watering spicy watermelon salad.
Ingredients
500g watermelon
3 tbsp jalapeños
200g feta cheese
3 tbsp olive oil
1 tbsp lemon juice
1 tbsp white wine vinegar
salt and pepper, to taste
Instructions
1

Slice the watermelon and then cut in cubes.

2

Mix the peppers with the watermelon.

3

Mix the olive oil, lemon juice and vinegar in a bowl to make the dressing. Season with salt and pepper.

4

Mix the dressing with the watermelon and peppers.

5

Add the feta and serve immediately.
Nutrition
292 Calories

12,1g Carbohydrates

44,5mg Cholesterol

22,8g Fat

1,4g Fiber

9g Protein

9g Saturated fat

1101,3mg Sodium

10,2g Sugar

2,6g Unsaturated fat
Notes
Add the feta just before serving to prevent it from getting soggy.