An easy spinach, broccoli and apple soup with only six ingredients and very little effort that can be enjoyed all year long.
Spinach broccoli soup is very healthy and a great way to get your greens in. The soup gets its vibrant green colour from the spinach and broccoli, the holy grail of greens. Packed with lots of nutrients and low in calories, making it the ideal soup to add to your diet.
Should you use fresh spinach for Spinach broccoli and apple soup?
If possible, use fresh spinach to make the soup. Not only does fresh spinach holds more flavour but it will also give the soup a lovely green colour. Using fresh spinach can be time consuming though as you will need to add them in batches to wilt it down in size. It also depends on the size of the pot that you are using and how much it can fry at the the same time.
Fresh spinach usually comes in big bags and also will take up space in the refrigerator. Tips for storing spinach:
Rinse the spinach leaves in a colander and pat it dry.
Carefully wrap it in paper towel. Avoiding pressing it too tightly as the leaves bruises easily.
Place it in a airtight container and store it in the fridge. It should last for up to 10 days.
Frozen spinach is a great freezer staple to have. When pressed for time or if frozen spinach is the only option at hand, you can certainly use it in the soup. There is no need to thaw frozen spinach before you add it to the soup. You might want to consider using a bit more spinach when using frozen.
Let me know in the comments below if you made this and if you used fresh or frozen spinach.
For more soup recipes: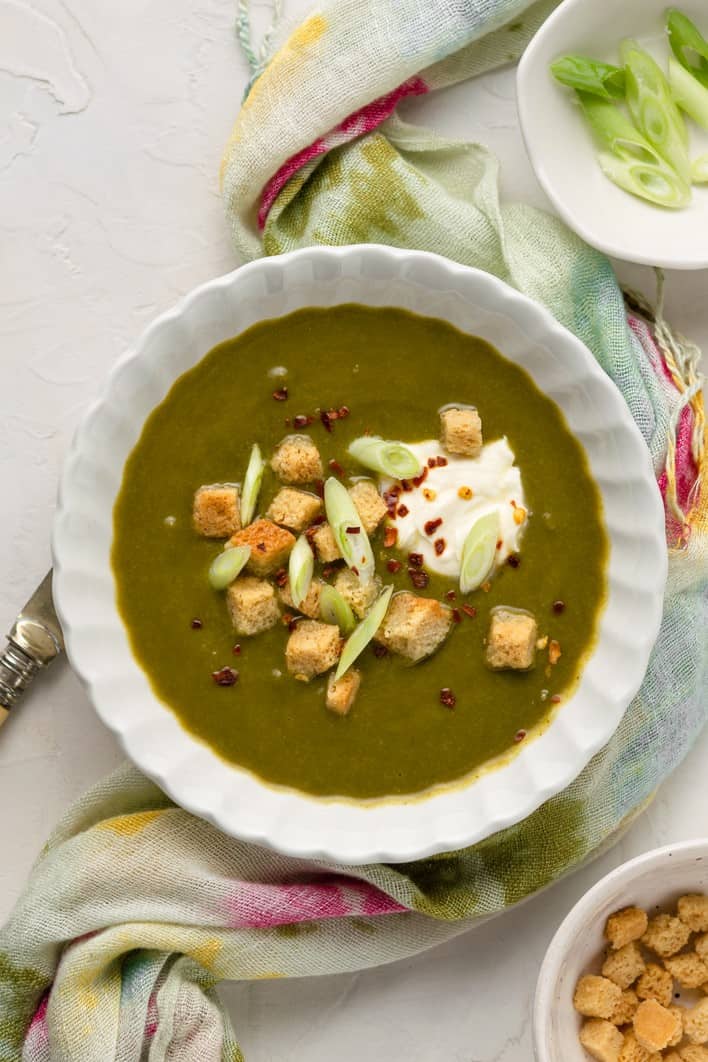 Print Recipe
Spinach Broccoli Apple Soup
A healthy green soup with spinach, broccoli, leeks and apples.
Ingredients
50g butter
2 leeks, sliced
400g spinach, rinsed
300g broccoli, cut in bite size
2 green apples, cubed
800ml vegetable broth
Instructions
1

1. Melt butter in a pot and sauté the leeks until soft.

2

2. Add apples and broccoli. Cook it for 5 minutes.

3

3. Gradually add spinach until wilted.

4

4. Add broth and simmer for 15 minutes.

5

5. Remove from heat and blend until smooth.

6

6. Serve hot with croutons.
Nutrition
140 Calories

13,7g Carbohydrates

7,8g Fat

5,3g Fiber

4,2g Protein

5,1g Saturated fat

57,2mg Sodium

8,3g Sugar

0,1g Unsaturated fat
Notes
Serving suggestions: - Serve with bread roll, croutons, seeds and / or crème fraiche.