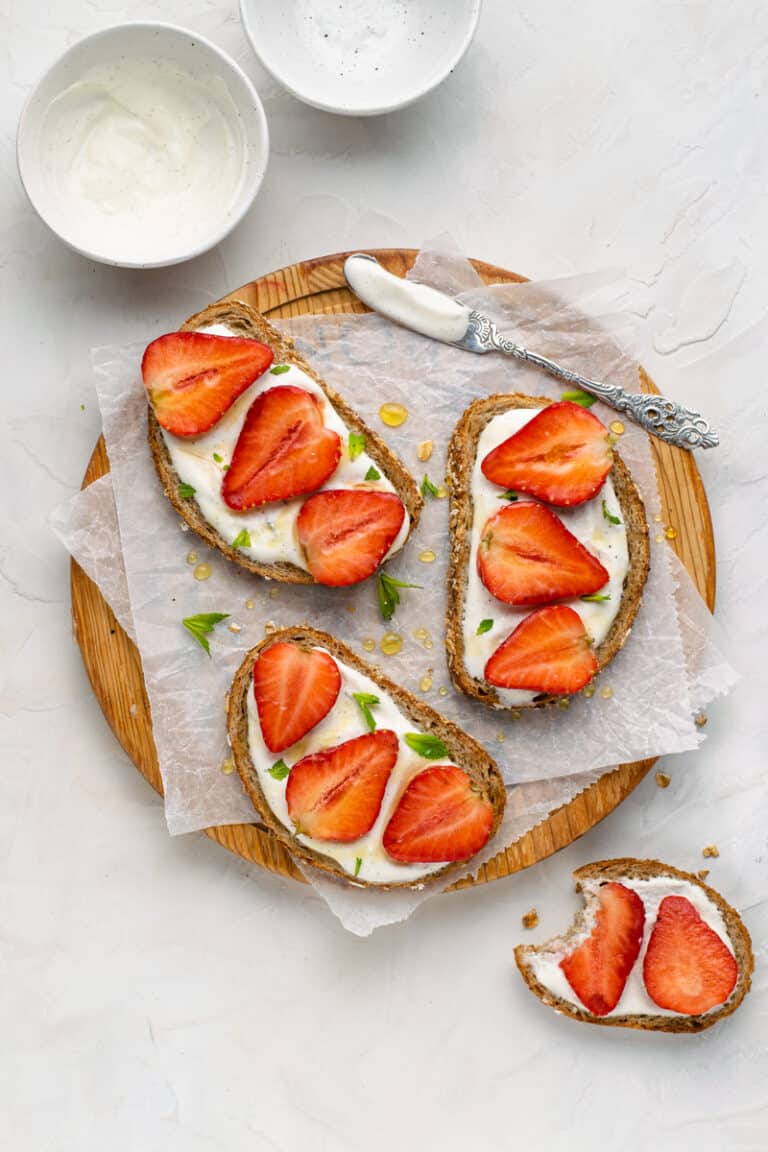 This strawberry coconut sandwich is an easy way to up your protein game and craving something sweet at the same time. Easy to prepare upfront and ready to serve in no time!
During the warmer months when you just don't feel like cooking and in need of a meatless lunch, this light sandwich can be a lifesaver. Guaranteed to be loved by all! Serve it as lunch, brunch, as a picnic basket filler or simply as a snack.
Ingredients for Strawberry Coconut Sandwich
Bread – I like to use whole wheat brown bread but you could certainly use any bread. Bruschetta is a good alternative. Rub some olive oil on the bruschetta and toast it in a pan slightly before adding the toppings.
Ricotta cheese
Coconut yoghurt
Vanilla bean paste – a good quality vanilla bean.
Strawberries – fresh, seasonal strawberries with stems removed.
Mint
Honey
Recipe substitutions and alternatives
Replace the strawberries with any berries or try using mixed berries such as blueberries, raspberries and blackberries.
Instead of using coconut yoghurt, opt for low fat Greek yoghurt.
An alternative for ricotta cheese could be goat cheese.
Cook's tips
Prepare the coconut cream in advance and store in the refrigerator.
A strawberry huller set is a great gadget to have to remove stems and evenly slice the strawberries.
Mix strawberries and shredded mint and allow the flavours to marry even more before topping with the cream.
To add a bit of a savoury twist, add a dash of your favourite balsamic vinaigrette.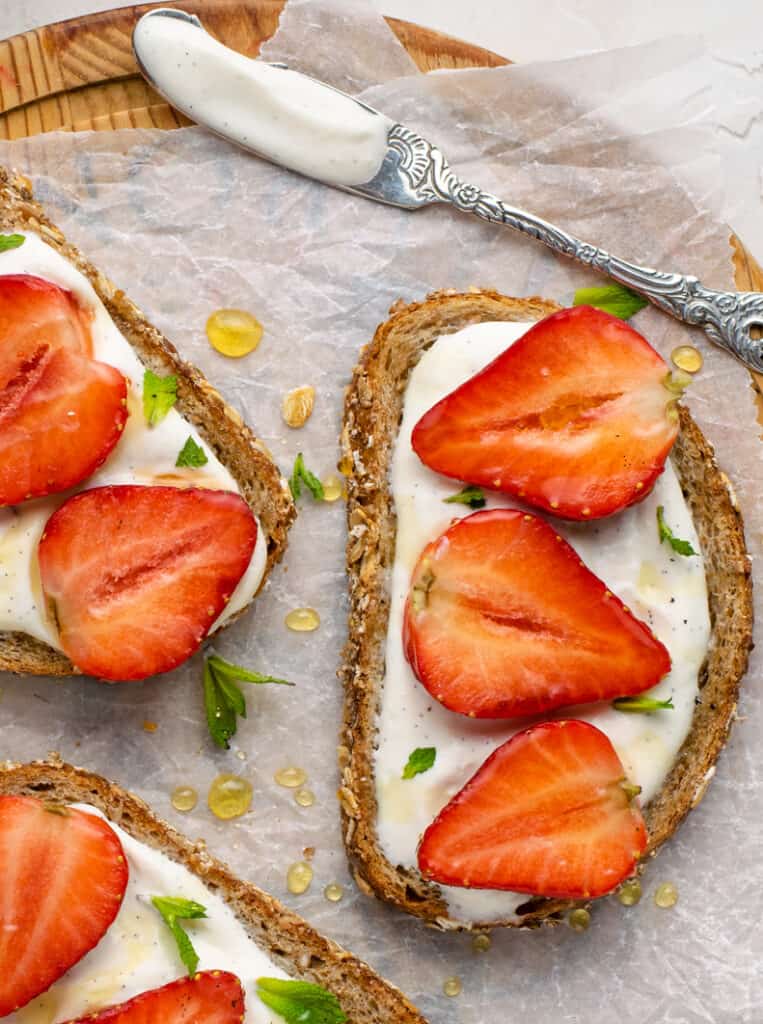 This open strawberry coconut sandwich is so simple and quick to whip up. It's a great picnic food idea as it is so easy to assemble on the spot. With only 2 small containers and a loaf of bread, it will take up very little space in your picnic basket. It will have everyone coming back for more!
For more food ideas to fill up your picnic basket, try this thirst quenching watermelon salad.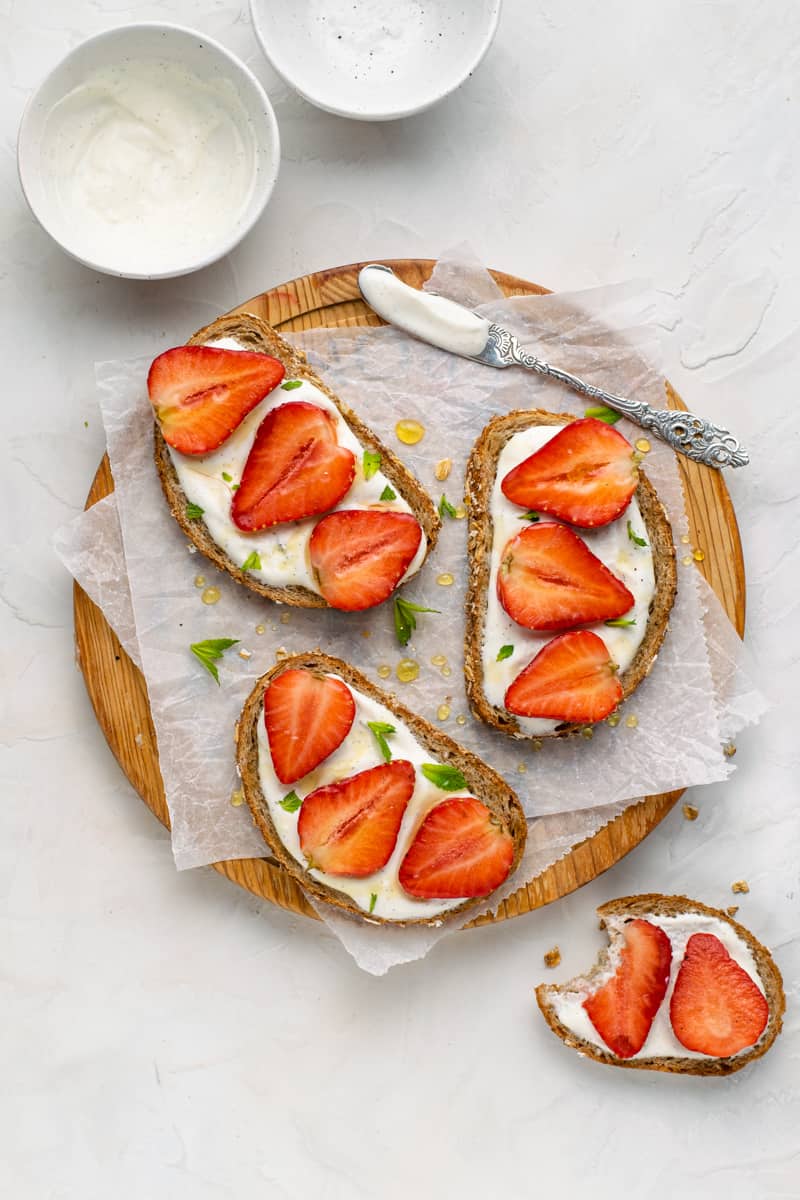 Print Recipe
Strawberry Coconut Sandwich
An easy open sandwich topped with coconut cream and strawberries.
Ingredients
250g strawberries, halved
10g mint leaves
200g coconut yoghurt
200g ricotta
1/2 vanilla bean pod
8 slices whole wheat bread
honey, to taste
Instructions
1

Discard the stems from the strawberries and slice the strawberries.

2

In a different bowl, mix ricotta and yoghurt until smooth.

3

Slice the vanilla bean pod open in two and remove the paste from half of the pod. Add the paste to the yoghurt mixture.

4

Layer the bread slices with the yoghurt mixture.

5

Add the strawberry slices.

6

Garnish with mint leaves and drizzle with honey.
Nutrition
127 Calories

14,7g Carbohydrates

4g Fat

2,5g Fiber

6,5g Protein

2,3g Saturated fat

100,9mg Sodium

4,7g Sugar

0,4g Unsaturated fat