This easy strawberry smoothie is a staple in our home. Breakfast simply is not complete without it. It's the next best thing to a milkshake.
What is the difference between a strawberry smoothie and a strawberry milkshake?
A strawberry smoothie is mainly based on the fruits with yoghurt. A milkshake is much sweeter and based on a combination of ice cream and fruits. Making smoothies much healthier.
A couple of years ago, I decided to invest in a blender and I can not live without it. Our mornings are usually rushed. Therefore, having something quick, yet healthy is the way to go for us. Along with a light breakfast, this smoothie will help keep you full for longer and helps to keep those snack-attacks at bay.
How to choose a blender?
Choose a blender with sharp blades.
Pay attention to the speed of the blender.
It is handy to have a blender that can operate at different functions eg. pulse, smooth, blend.
Another bonus is if it comes with more cups and extra lids, so that you can prepare more smoothies at the same time.
Choose frozen strawberries to keep your smoothies chilled. But if you do not have frozen strawberries at hand, just add enough ice cubes.
Adding seeds to smoothies is a great way to add nutrients. Chia seeds are a great option to add to smoothies. Not only does it have many health benefits but it contributes to the density of the smoothie. Chia seeds doubles in size when in contact with liquid and given time to absorb water.
How to prepare your smoothie upfront?
Add strawberries, oats, yoghurt and juice in your blending cup and refrigerate.
When ready to serve, add chia seeds and blend.
For more smoothie recipes, check out:
Berry Smoothie Bowls – Sunshine in a bowl
Be sure to use the #galleyofgail on Instagram, if you make this.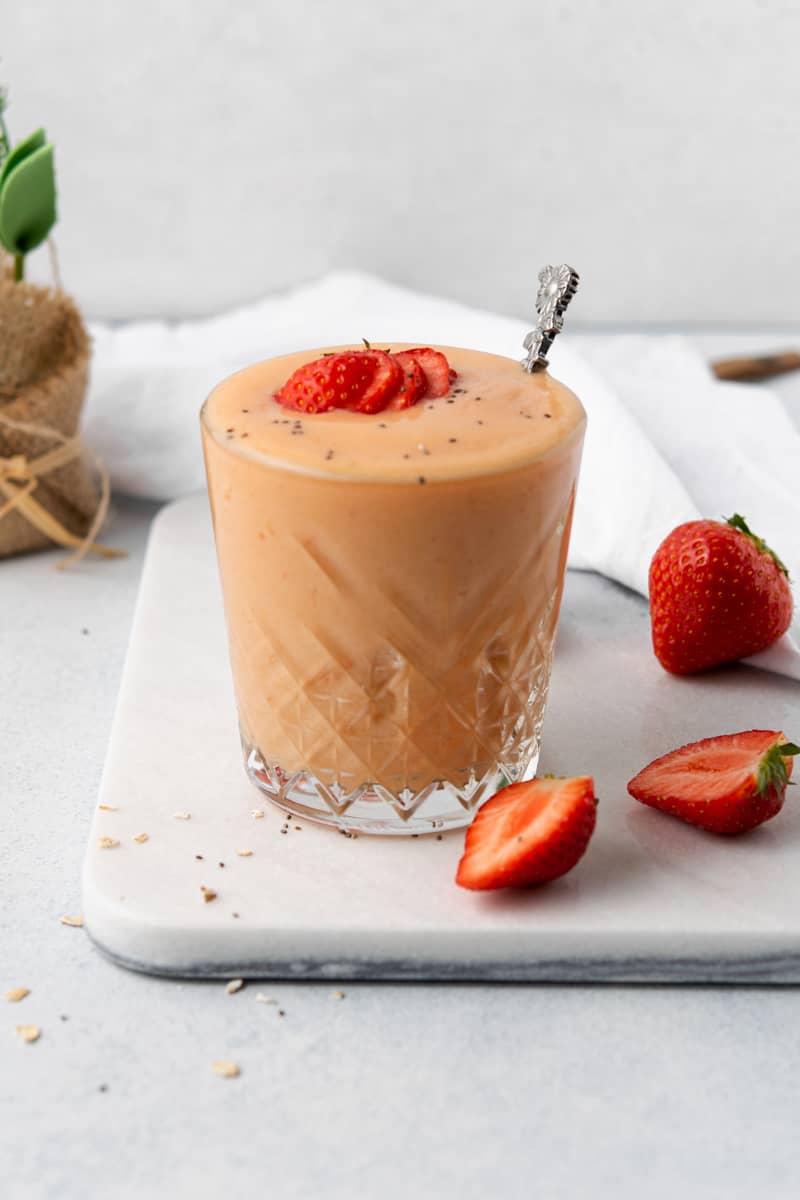 Print Recipe
Strawberry Smoothie
A great smoothie to serve with out without your breakfast.
Ingredients
40g oats
5 tablespoons low-fat Greek Yoghurt
1/2 frozen banana
150g strawberries
200ml orange juice
1 tablespoon chia seeds.
Instructions
1

1. Place all the ingredient in a blender starting with the frozen ingredients.

2

2. Blend for until smooth.

3

3. Pour in glasses and top with chia seeds.
Nutrition
197 Calories

32,9g Carbohydrates

2,5g Fat

3,8g Fiber

7,3g Protein

0,1g Saturated fat

66,8mg Sodium

6,9g Sugar

0,7g Unsaturated fat
Notes
Blend for about 40 seconds if using a Nutribullet. For a thicker smoothie, prepare upfront or the evening before and add chia seeds. As long as the seeds has enough time to absorb some liquid.