This banana loaf with chia seeds and walnuts is perfect for every day baking and any occasion. Simple and easy to whip up in no time!
Bananas are a nutritious and healthy fruit that offers a range of health benefits. They can be enjoyed on their own or added to a variety of dishes, making them versatile and convenient fruit. What makes them even more interesting is that when they are overripe, they are perfect for adding to baked goods.
Why choose overripe bananas in baking?
Overripe bananas are ideal for baking. They have a higher sugar content than ripe bananas, which makes them sweeter. This sweetness helps to enhance the flavour of the baked goods. Overripe bananas also have a higher moisture content, which makes them ideal for baking. This moisture helps to keep the banana loaf moist and soft. 
The time it takes for bananas to become overripe can vary depending on various factors, such as the ripeness of the banana at purchase, storage conditions, and temperature. Generally, it takes about 2-5 days for bananas to become overripe at room temperature.  Store bananas in a warm and humid environment to ripen it quickly.
What will you need to make this banana loaf?
Flour
Baking Powder
Salt
Overripe bananas
Brown Sugar
Cinnamon
Eggs
Buttermilk
Vanilla Essence
Melted Butter
Chia seeds
Walnuts
Chef's Tip: If the bananas are not overripe, pop in them in the oven at 180degrees for about 20 min. The bananas will go brown and soft. Although overripe bananas are sweeter, baked bananas are a great alternative if your bananas are not overripe yet.
So, the next time you have a few overripe bananas on hand, don't throw them away – use them to make some delicious baked goods!
For other ways to use overripe bananas, try these Spinach Banana Muffins.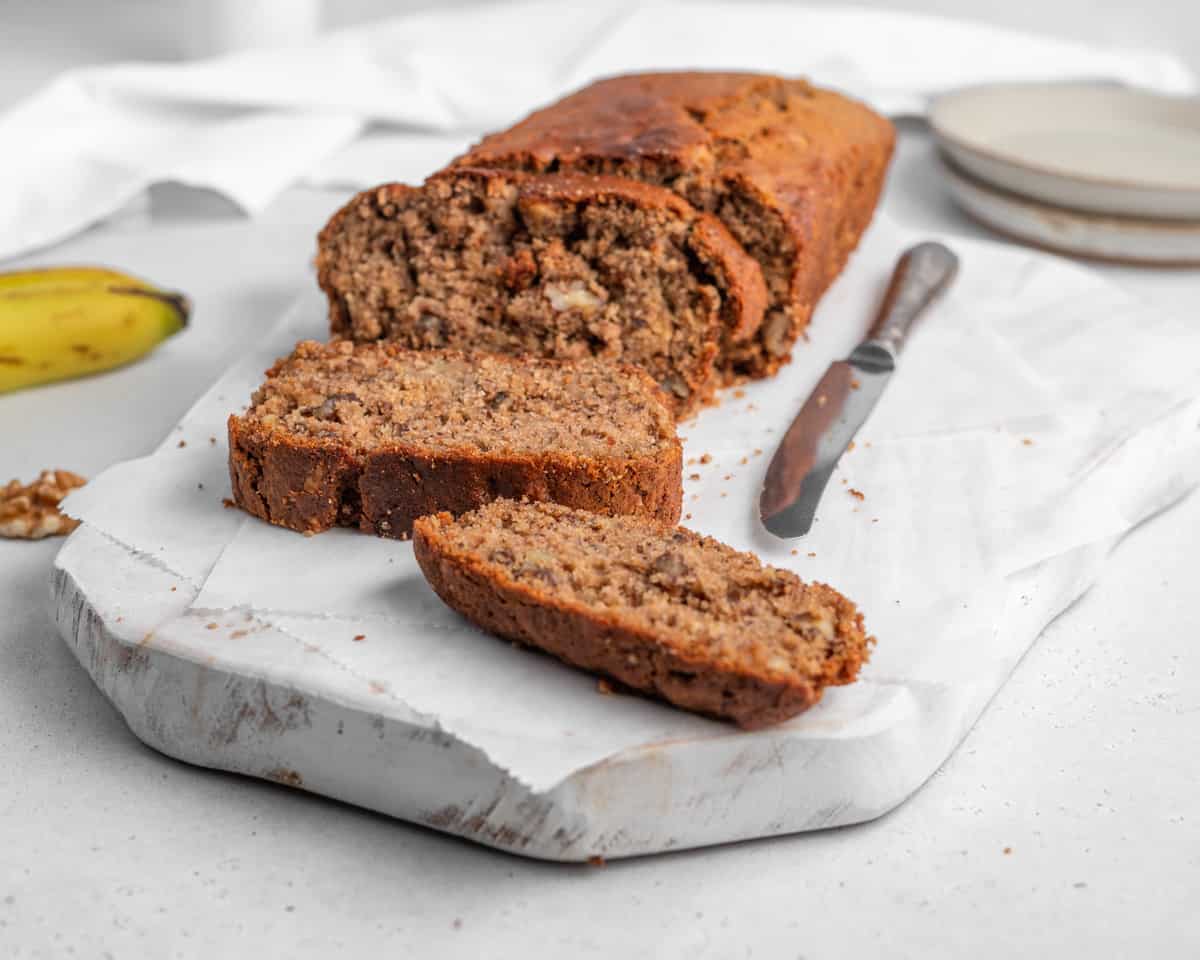 Print Recipe
Banana Loaf with Chia seeds and Walnuts
A moist banana bread topped with chia seeds and walnuts. Perfect tea time snack.
Ingredients
3 overripe bananas
200g brown sugar
150g unsalted butter, melted
2 eggs
240g flour
2tsp baking powder
1/4 salt
1 tsp cinnamon
50ml buttermilk
1 tsp vanilla essence
1 tbsp chia seeds
75g walnuts
Instructions
1

Preheat the oven to 180 degrees C.

2

Mix the flour, baking powder and salt with a whisk. Set aside.

3

Mash the bananas with a fork.

4

Add sugar, cinnamon and eggs to the mashed banana.

5

Add the vanilla essence, buttermilk and melted butter to the mashed banana mixture.

6

Fold the flour into the banana mixture gently. Do not over mix it.

7

Add the chia seeds and walnuts and slightly mix.

8

Pour the batter into a greased bread baking tin and bake for 45-50minutes.

9

Test by sticking a wooden stick. If it comes out dry, the loaf is fully baked.

10

Cool the loaf on a rack for at least 2 hours.
Nutrition
394 Calories

39,4g Carbohydrates

6mg Cholesterol

19,8g Fat

2,5g Fiber

7,3g Protein

8,6g Saturated fat

372mg Sodium

20,3g Sugar

5,2g Unsaturated fat