A creamy mixed mushroom soup made from different mushrooms and flavoured with thyme. The perfect fall dish!
Have I mentioned that soup season is here? Soups are just so easy to make and it is in my opinion one of the most comforting foods when it is cold outside. Mushrooms are popping up everywhere in the forests but also in the supermarkets. So that calls for mushrooms soup!
But how do you clean mushrooms? It's best not to wet mushrooms or rinse them. They absorb water very quickly. Instead, use a damp paper towel to wipe the mushrooms clean. Use a mushroom brush or a small knife to discard any dirt stuck on them. If you do rinse them, be sure not to them soak in water and let them dry out on a paper towel before using them.
It is important to store mushrooms properly. When purchasing mushrooms, be sure to check that they are dry and have no brown patches on them. Choose the freshest mushrooms and be sure to use them as soon as possible. Store them in the fridge, covered with plastic but be sure to not close it off completely. Mushrooms needs to breathe.
Mushrooms also absorbs odours from other foods. It is therefore important to keep them away from other vegetables with strong smells. Fruit and citrus releases toxins that speeds up the aging process of mushrooms. Keep them separate from each other. Store and use mushrooms within 2 – 3 days.
If you would like to keep them for longer, blanche them quickly and freeze them. That way it will last you for another 2 – 3 months.
Serve this creamy mixed mushroom soup with a dash of cream and freshly baked bread rolls. For more vegetable soups, check out Spinach Broccoli and Apple soup – Drink your greens!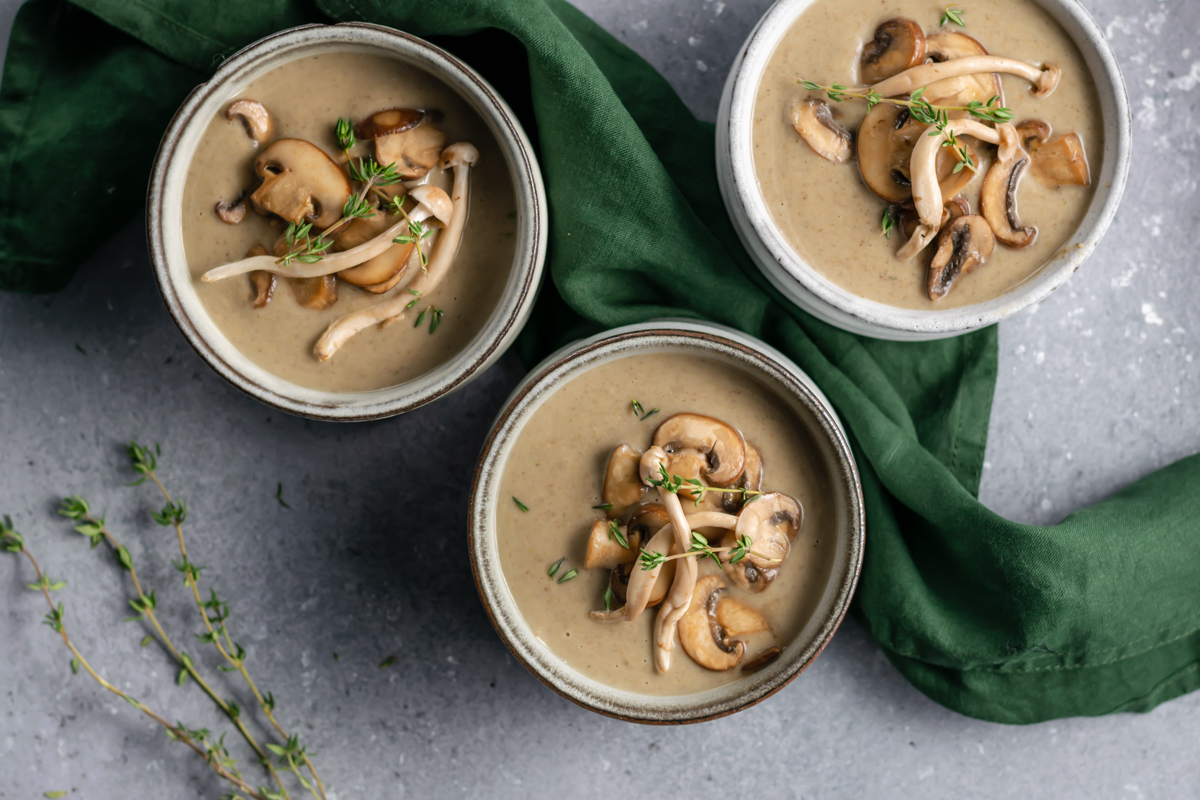 Print Recipe
Creamy Mixed Mushroom Soup
A creamy mixed mushroom and thyme.
Ingredients
3 tbsp butter
1 large onion, sliced
3 garlic cloves, minced
400g button mushrooms, cleaned and sliced
200g chestnut mushrooms, sliced
100g shitake mushrooms, sliced
10g fresh thyme leaves, chopped
3 tbsp flour
1l vegetable stock
100ml cream
Instructions
1

1. Heat half of the butter and fry the onion and garlic for a few minutes.

2

2. Add button mushroom and thyme and fry for 10min.

3

3. Add flour and fry for another 5min. Add stock and simmer for 10minutes.

4

4. In separate pan, heat the remaining butter and fry the remaining mushrooms for 5 minutes. Season with pepper.

5

5. Add the cream to the soup and blend until smooth.

6

6. Add the fried mushrooms to the soup and season, if needed.

7

Serve warm with thyme and cream.
Nutrition
306 Calories

22,1g Carbohydrates

20,2g Fat

3,9g Fiber

9,4g Protein

14,1g Saturated fat

13,6mg Sodium

8,6g Sugar

1,5g Unsaturated fat