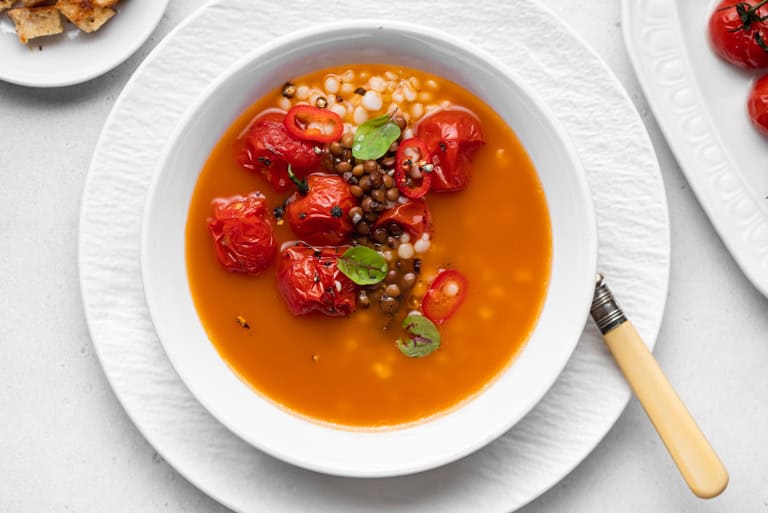 If you're craving a fresh summer tomato soup that is light and healthy, you've come to the right place.
As the summer season blooms in the Netherlands, it brings along a bountiful supply of locally grown tomatoes. Farmers in the Netherlands are famous for their innovative greenhouse methods, making the country a top producer of tomatoes. This soup celebrates the vibrant tomato season while making the most of the juicy and flavorful Dutch tomatoes.
What will you need to make this fresh Summer Tomato Soup?
To create this mouthwatering summer tomato soup, you will need the following ingredients:
olive oil
onions
stick celery
garlic cloves
tomato paste
cherry tomatoes
pearl couscous
canned lentils
red chilli
Marmite
dried porcini mushrooms 
water
Alternative ingredient suggestions to make this fresh summer tomato soup?
If you don't have some of the ingredients listed above, don't worry! Here are a few alternatives you can consider:
Swap yellow onions with red onions or shallots.
Use tomato sauce instead of tomato paste.
Replace pearl couscous with orzo or small pasta.
Experiment with other legumes such as chickpeas or white beans in place of lentils.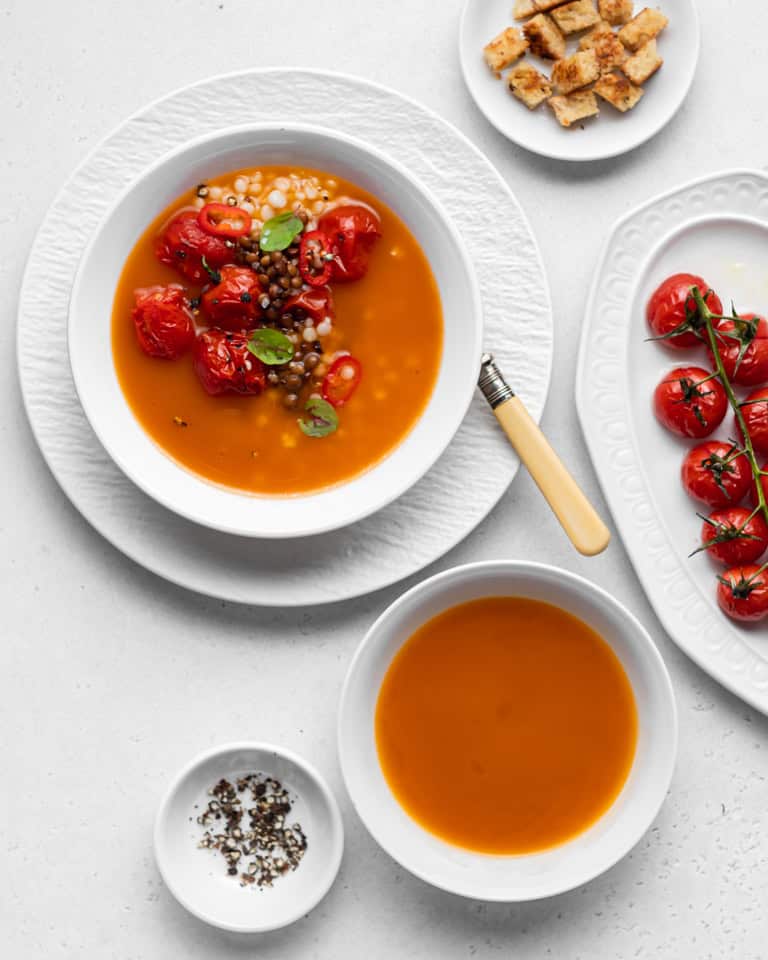 To enhance their natural sweetness, I roasted the tomatoes first. This step intensifies their flavours, creating a heavenly base for our soup. Feel free to use any other variety that catches your eye at the market.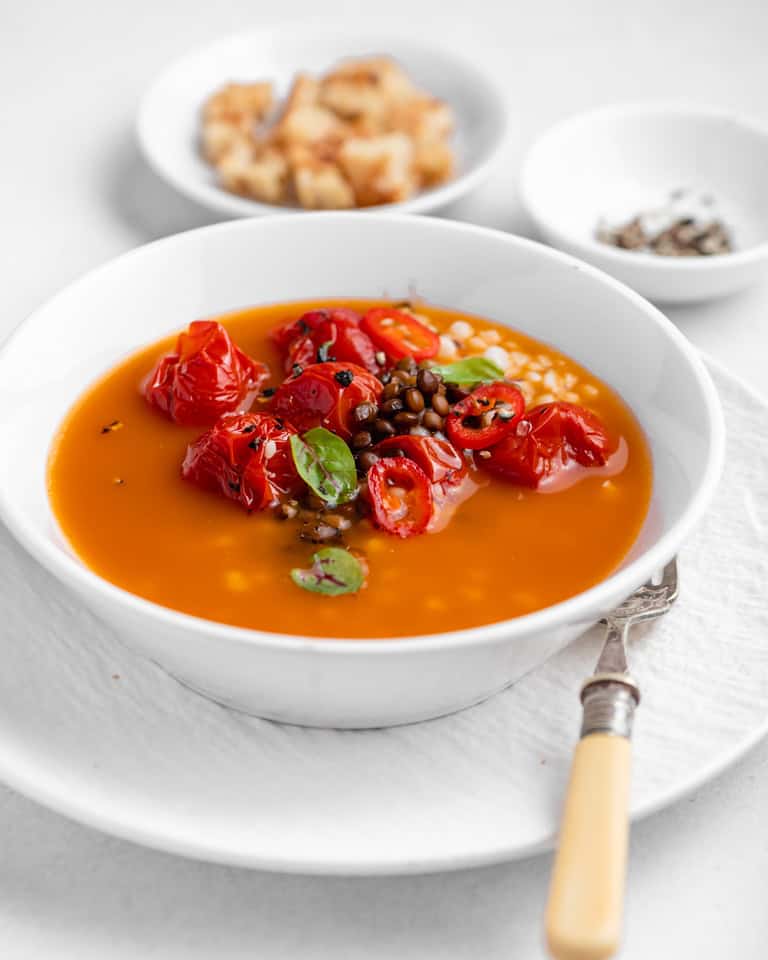 What to do with leftover soup?
Preparing this soup is a breeze! In just a few simple steps, you'll have a healthy soup simmering on your stove. Plus, it's an excellent recipe for meal prep and can be easily stored in the refrigerator for up to three days.
The sweetness of the roasted tomatoes, combined with the delightful pops of pearl couscous, makes this soup a true seasonal treat. Give this fresh summer tomato soup a try and and tag me on social media if you share it. Happy cooking!
For more soup recipe ideas, check out: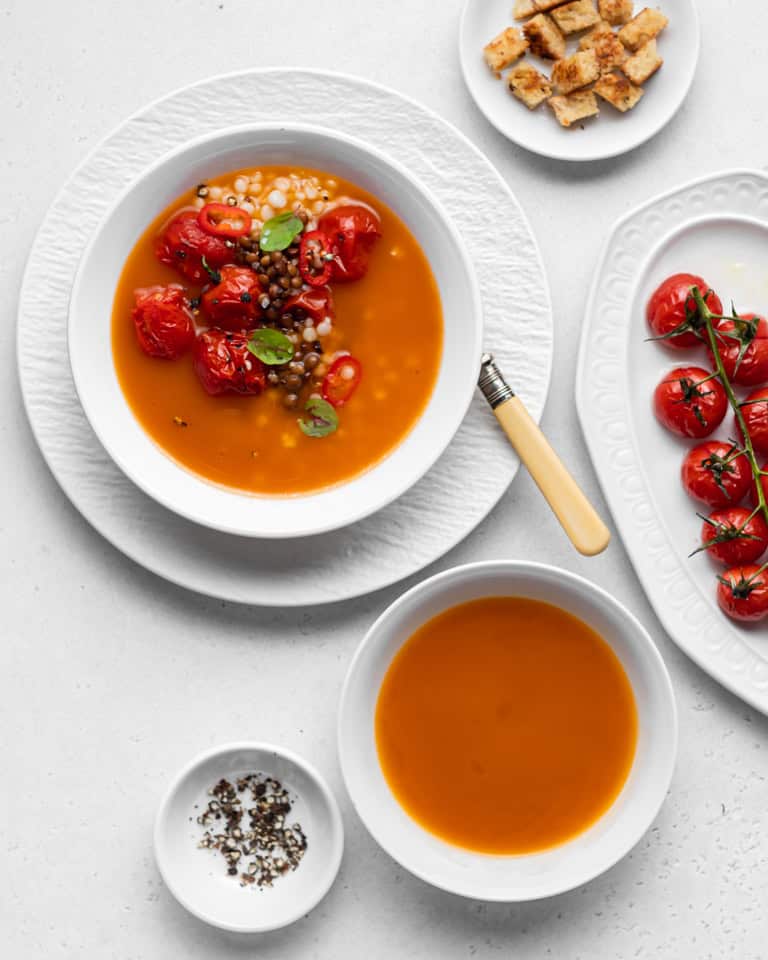 Print Recipe
Fresh Summer Tomato Soup
A light, flavourful soup that can be served for lunch or dinner.
Ingredients
4 tbsp olive oil

2 yellow onions

2 stick celery

2 garlic cloves

30g tomato paste

500g cherry tomatoes

100g pearl couscous

50g canned lentils, rinsed and drained

1/2 red chilli,

2 teaspoons Marmite

10g dried porcini

750ml water
Instructions
1
Preheat the oven to 180 degrees.
2
Toss the cherry tomatoes with 2 tbsp olive oil and roast for 20 minutes. Keep a few tomatoes aside for garnishing.
3
Heat the remaining olive oil and fry the onions until transparent.
4
Add the garlic and celery and fry for 2-3 minutes.
5
Add the roasted tomatoes, chilli and tomato paste and cook for 3 minutes.
6
Add the water, Marmite and porcini and simmer for 30minutes.
7
Cook the pearl couscous according the package instructions and set aside.
8
Remove the soup from the heat and blend until smooth.
9
Serve the soup in bowls and divide the lentils, couscous and cherry tomatoes evenly over the bowls.
10
Season with salt and pepper.
Notes
Serve with fresh herbs and bread rolls.