This healthy spinach pea soup is another delicious way to get your greens in. Packed with nutrients and vitamins to keep the family healthy all year long.
If you've been hanging around on here for some time, you will know that I like spinach. In warmer months, I tend to drink a lot of green smoothies such as this Mango Strawberry Green Smoothie. And in the colder months I opt for soups such as this Spinach Broccoli and Apple soup.
Soups are easy to make and takes very little time to prepare. The same goes for this mean green soup. Although it is said that it is better to eat your greens whole, blending it is not a complete loss of nutrients. Blending the soup gives it a smooth texture, making it a toddler friendly meal as well. Basically throw everything into a pot, heat and blend. It's ready to serve in 20 – 25 minutes! Easy peasy!
What will you need to make this spinach pea soup?
Leeks
Garlic
Rosemary
Peas
Spinach
Vegetable broth
Corn
Goat's cheese (optional)
Olive oil
Ingredient substitutes
Leave out the goats cheese to make this a vegan spinach soup.
No leeks at hand – replace it with yellow onions.
Garnish the soup with fresh garden cress herbs and roasted sesame seeds.
Chef's Tip:
This soup can be blended for a smooth texture. However if you prefer more of a bite, then keep some peas and corn aside and serve it with the soup. I find a using a hand blender much easier and quicker to use. No fuss in pouring the soup over from a pot over into a blender and back again. You also do not have to wait for the soup to cool down to blend it this way.
Serve suggestion:
Serve it hot with fresh bread or homemade cheese sticks.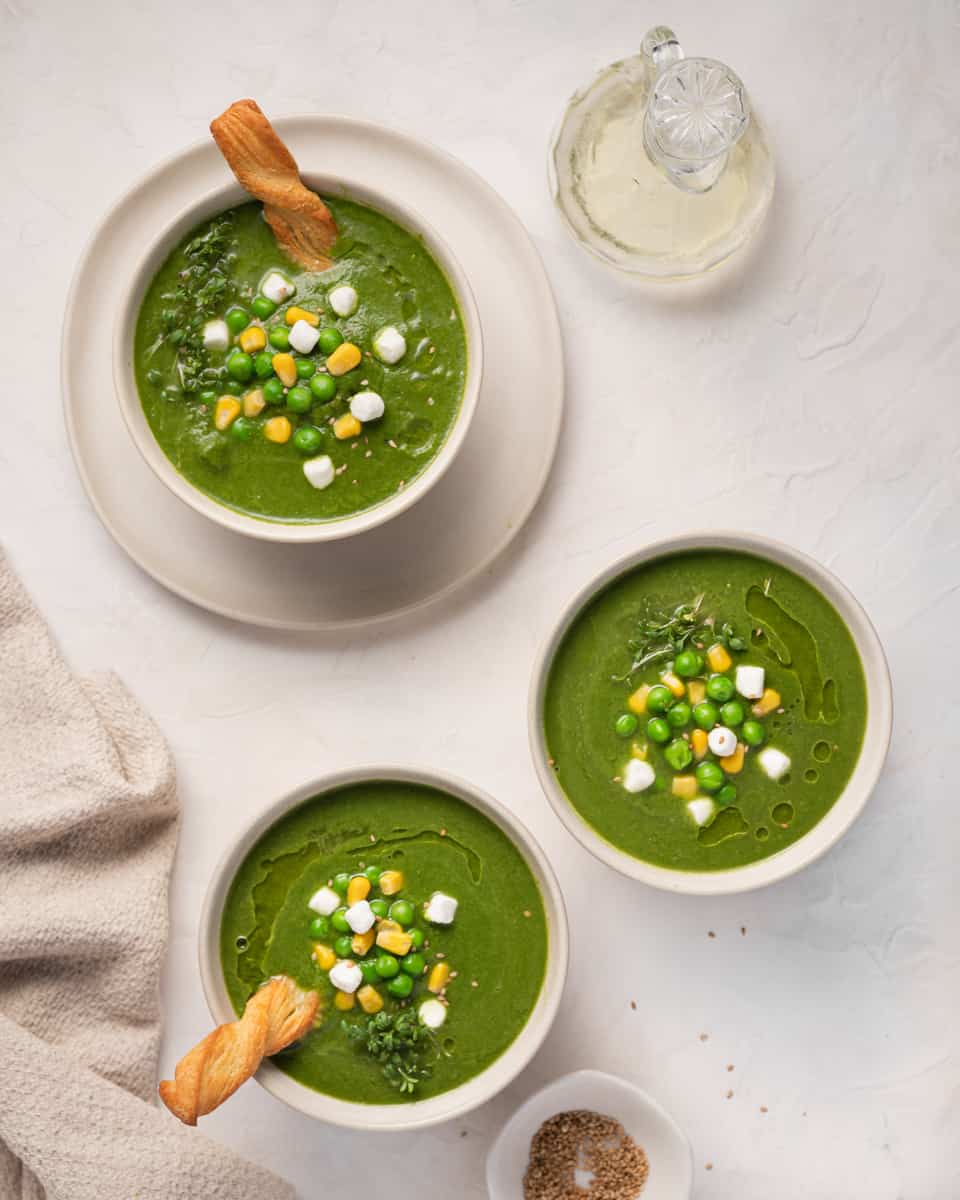 Print Recipe
Spinach Pea Soup
A lovely green soup with corn and goats cheese.
Ingredients
2 tbs olive oil
2 leeks
2 garlic cloves
3 sprigs of rosemary
250g peas
250g spinach
1l vegetable stock
150g corn
200g goats cheese
Instructions
1

Wash the leeks and slice it in thing slices.

2

Remove the leaves from one rosemary sprig and chop it up finely.

3

Heat the oil and fry the leeks, garlic and rosemary for 5 minutes.

4

Add the peas, remaining rosemary sprigs (sprigs in tact) and vegetable stock and cook on low for 15 minutes.

5

Remove the rosemary sprigs after 10 minutes of cooking. Then add spinach until welted.

6

Remove from heat and blend until smooth.

7

Return to heat and add the corn. Cook for another 2 minutes.

8

Serve hot with goats cheese.
Nutrition
180 Calories

6,3g Carbohydrates

11,6g Fat

3,2g Fiber

10,2g Protein

6,1g Saturated fat

735,1mg Sodium

4,9g Sugar

3,1g Unsaturated fat