Pumpkin fritters is a much loved recipe in South Africa. It requires very little ingredients and is so easy to make. You will have everyone hogging the pan as you make it!
Nothing screams Autumn like pumpkin! The pumpkin recipes are endless. This is a South African favourite has been around forever and will never be outdated. Today there are twists on how to serve it but the basis of making it still stays the same.
What are the ingredients to make pumpkin fritters?
Pumpkin
Eggs
Flour
Baking Powder
Lemon zest
Vanilla Essence
Cinnamon
Brown sugar
How to prepare the pumpkin?
Peel the pumpkin and remove the seeds with a spoon. Keep the seeds aside. Add the pumpkin to a colander and steam it over a pot with a lid covering it. This way it will retain it's natural moisture. For an extra side treat, use the pumpkin seeds to make roasted pumpkin seeds.
How to make roasted pumpkin seeds?
Rinse the seeds and remove any excess flesh. Boil the seeds in hot water for approximately 5 minutes. Dry it on kitchen towel. All the excess flesh should be removed now. Toss and cover the seeds with some oil and your favourite seasoning. Then bake in the oven for about 10 minutes on 180 degrees C. Allow to cool and serve along with the fritters.
Chef's Tip:
Use a silicone pancake form to make evenly rounded fritters. A pancake pan is another handy pan to have in the kitchen to make perfectly round hamburgers and eggs.
Serve the fritters hot with cinnamon sugar or icing sugar. If you don't have ready made cinnamon sugar at hand, you can make some yourself. Simply add half brown sugar with half ground cinnamon. For a modern twist to these pumpkin fritters, it can be served with caramel sauce as well.
For more Autumn recipes check out this Butternut soup with orange, apple and carrot It will not disappoint!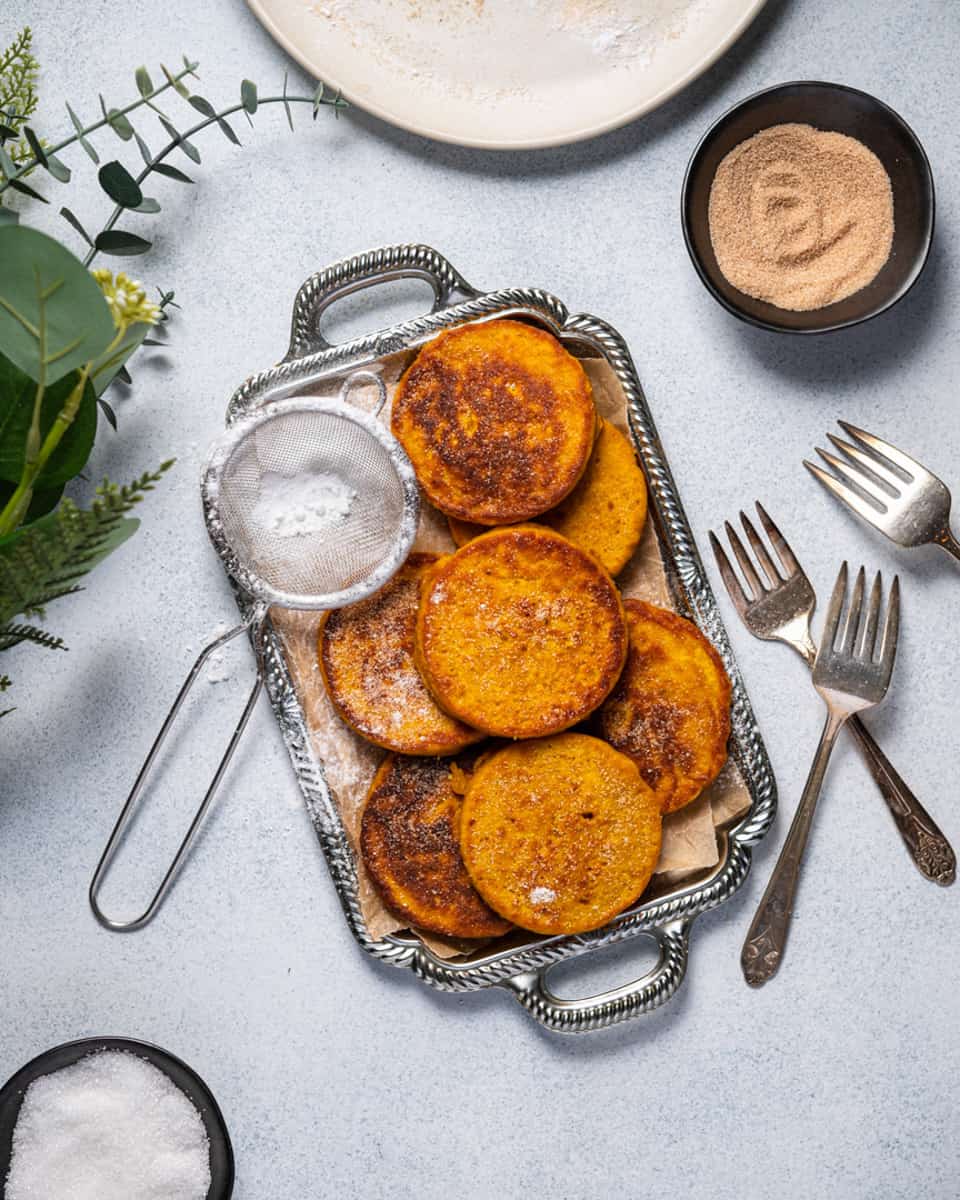 Print Recipe
South African Pumpkin Fritters
Mini pancakes made from pumpkin, topped with cinnamon sugar.
Ingredients
250g pumpkin, peeled and cubed
1 egg
a pinch of salt
75g flour
1/2 tsp baking powder
1 tsp brown sugar
1/2 tsp cinnamon
1 tsp vanilla essence
Zest of half a lemon
3 tbsp Oil
Cinnamon sugar to serve
Instructions
1

Place a colander over a pot with water. The water should be just below the colander.

2

Add the pumpkin cubes and cover with a lid. Steam until the pumpkin is tender. Test with a fork.

3

Puree the pumpkin and add egg, salt, brown sugar, cinnamon, vanilla essence and lemon zest. Stir well.

4

Sift in the flour and baking powder. Mix well.

5

Heat oil in pan. Add 2 tablespoons of pumpkin puree to form a mini pancake.

6

Bake for 2-3minutes until golden brown and turn. Fry the other side.

7

Place on a plate with paper towel to drain excess liquid.

8

Serve with cinnamon sugar.
Nutrition
70 Calories

7,6g Carbohydrates

21mg Cholesterol

3,5g Fat

0,2g Fiber

1,8g Protein

0,5g Saturated fat

0,3mg Sodium

2g Sugar

2,7g Unsaturated fat