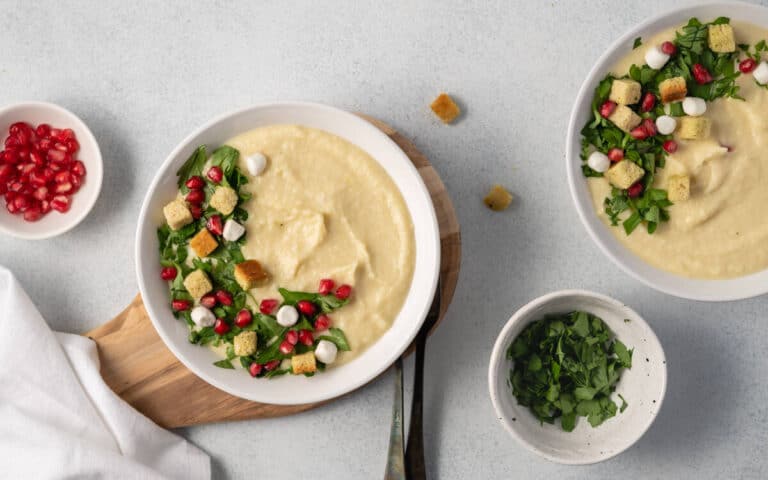 This creamy parsnip cauliflower soup is a guaranteed winner, especially at Xmas. The festive garnish adds the extra touch to set the tone for the rest of the dinner.
What will you need to make this creamy parsnip cauliflower soup?
Butter
2 leeks
2 garlic cloves
Parsnips
Cauliflower
Vegetable stock
Cream
Parsley 
Croutons
Pomegranate seeds
Goat's Cheese
Parsnips, also known as white carrot, is a root vegetable that resembles carrots. The taste differs a lot though. Parsnips has a nuttier taste. They can grow quite big, up to 25cm. Bigger parsnips have a woodier stem on the inside and less flesh. It has a starchy texture, making this creamy parsnip cauliflower soup quite thick. Smaller parsnips tend to be sweeter and has less of a woody root in the middle, making it ideal to cook with.
How to prepare parsnips for this soup?
Wash parsnips under running water and brush it clean to remove any dirt. Trim the ends and brown edges. You don't need to peel the parsnips, especially if you plan on roasting it However to keep the creamy colour in this soup, it is suggested to peel the parsnips. Parsnips can be eaten raw as well and can be used it salads. Cut it into smaller pieces and dress it with citrus juice to keep prevent it from turning brown.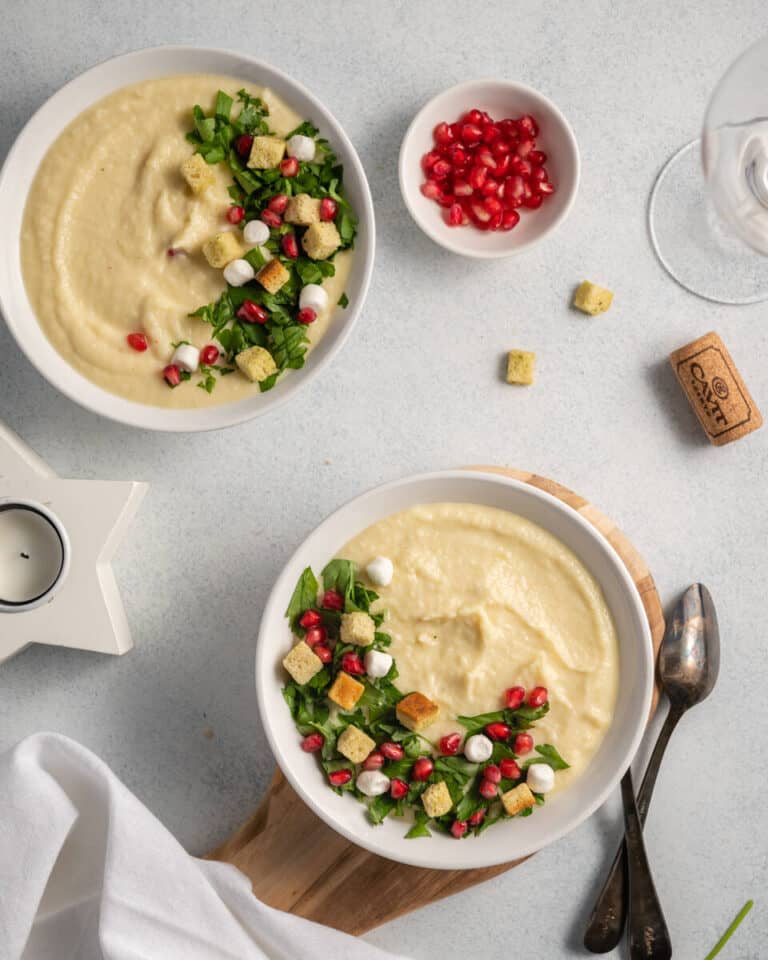 Garnish suggestions:
Omit the parsley with sage. Heat a small amount of butter in a pan and fry the sage leaves for a few minutes until crispy. Drain on paper towel before serving.
Chef's tip:
Make your own croutons by slicing a few slices of bread into small squares. Toss it olive oil and season with salt. Cut one garlic clove into slices and fry together in a pan with bread until the bread is crispy. Remove the bread and fry the garlic until crispy and serve along with the soup.
For more soup recipe ideas, check out: