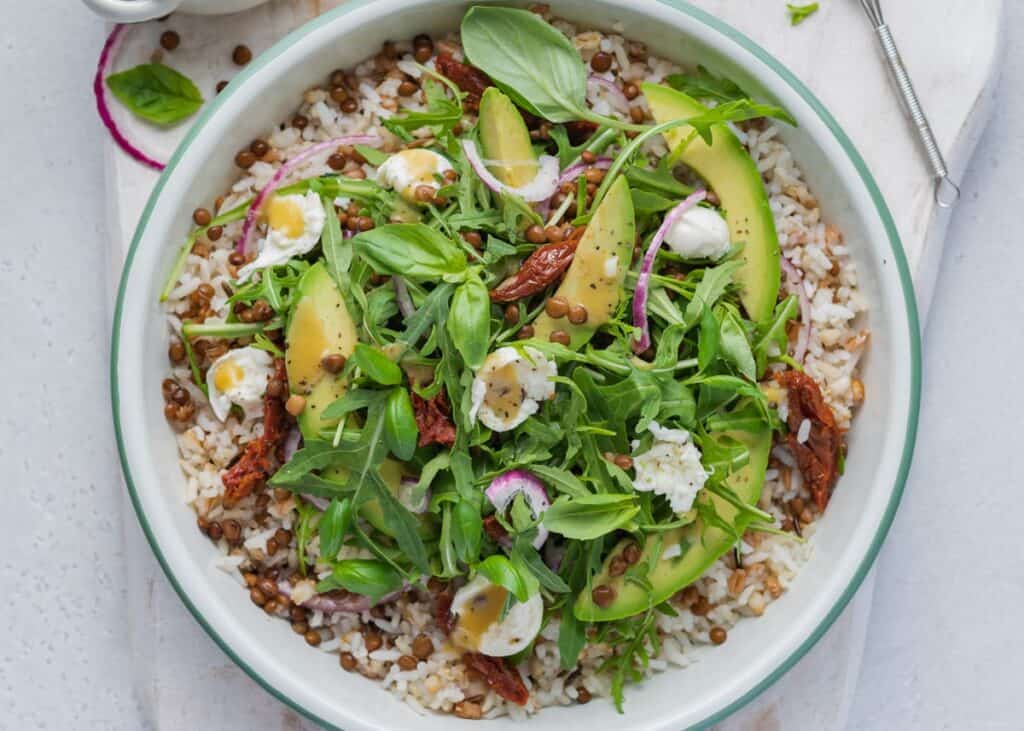 This Wild Rice Lentil Salad not only tantalises your taste buds but also offers a range of health benefits. 
Wild rice is known for its distinctive nutty flavour and chewy texture, which adds depth to any dish. Compared to white rice, wild rice is higher in protein and fiber. The combination of wild rice and lentils provides a hearty dose of fiber, plant-based protein, making it a suitable option for vegetarians.
What will you need to make this Lentil Wild Rice Salad?
Wild brown rice (alternatively, you can use long-grain brown rice or a rice medley)
Canned brown lentils (you can substitute with green lentils or black lentils)
Sundried tomatoes (or cherry tomatoes for a fresh twist)
Mozzarella cheese (try feta or goat cheese for a different taste)
Arugula leaves (baby spinach or mixed greens work well too)
Basil leaves (feel free to experiment with cilantro or parsley)
Avocado (for a creamy texture)
Red onion 
For those who do not like biting into raw red onion, here are a few options:
Green onions (scallions): Finely slice the green parts of scallions for a milder onion flavor.
Shallots: These have a more delicate and sweet flavor compared to red onions. Finely chop or slice them to add a subtle onion taste.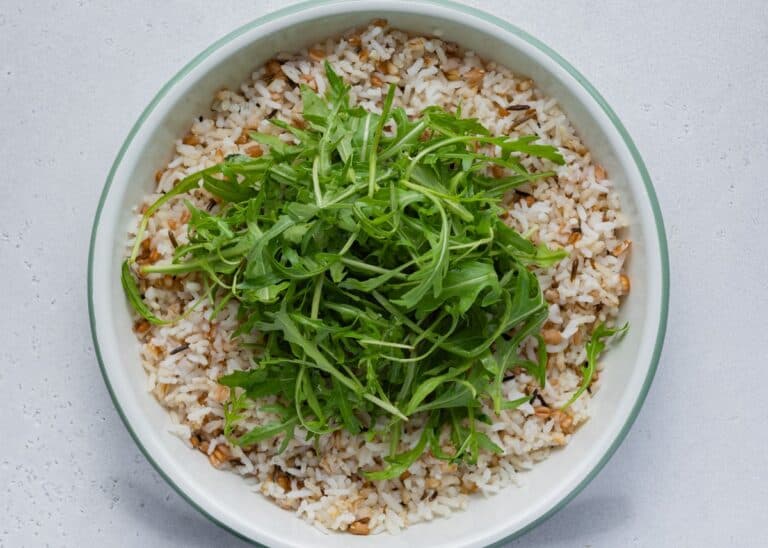 For the Honey Mustard Vinaigrette:
Olive oil
Apple cider vinegar
Mustard (Dijon or whole grain)
Honey (maple syrup or agave nectar can be used as alternatives)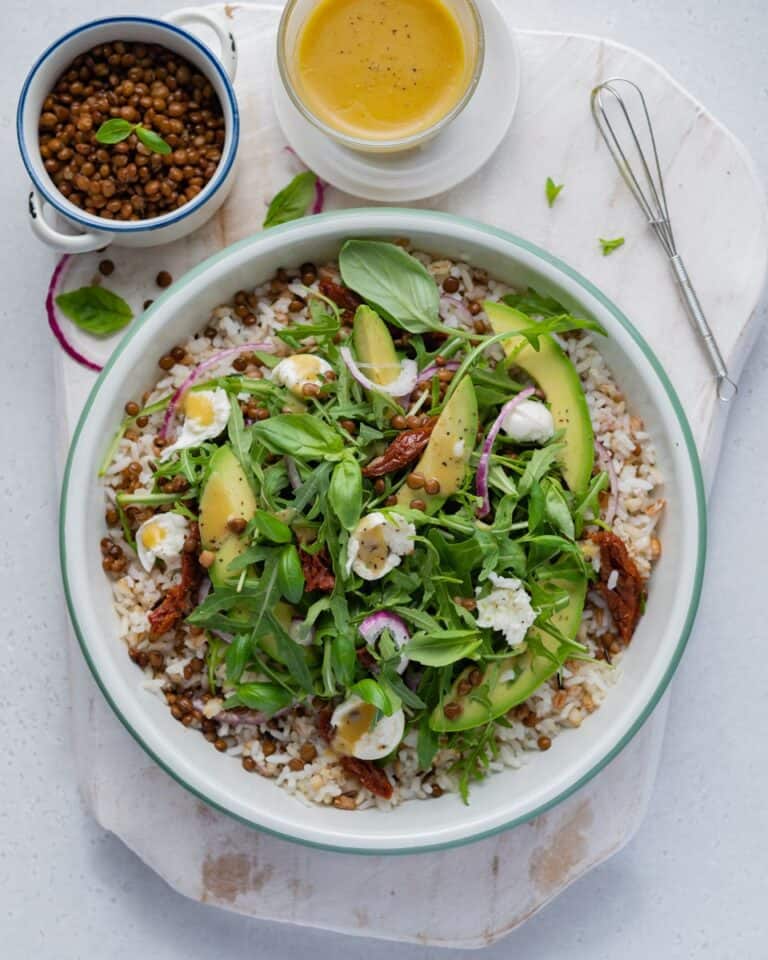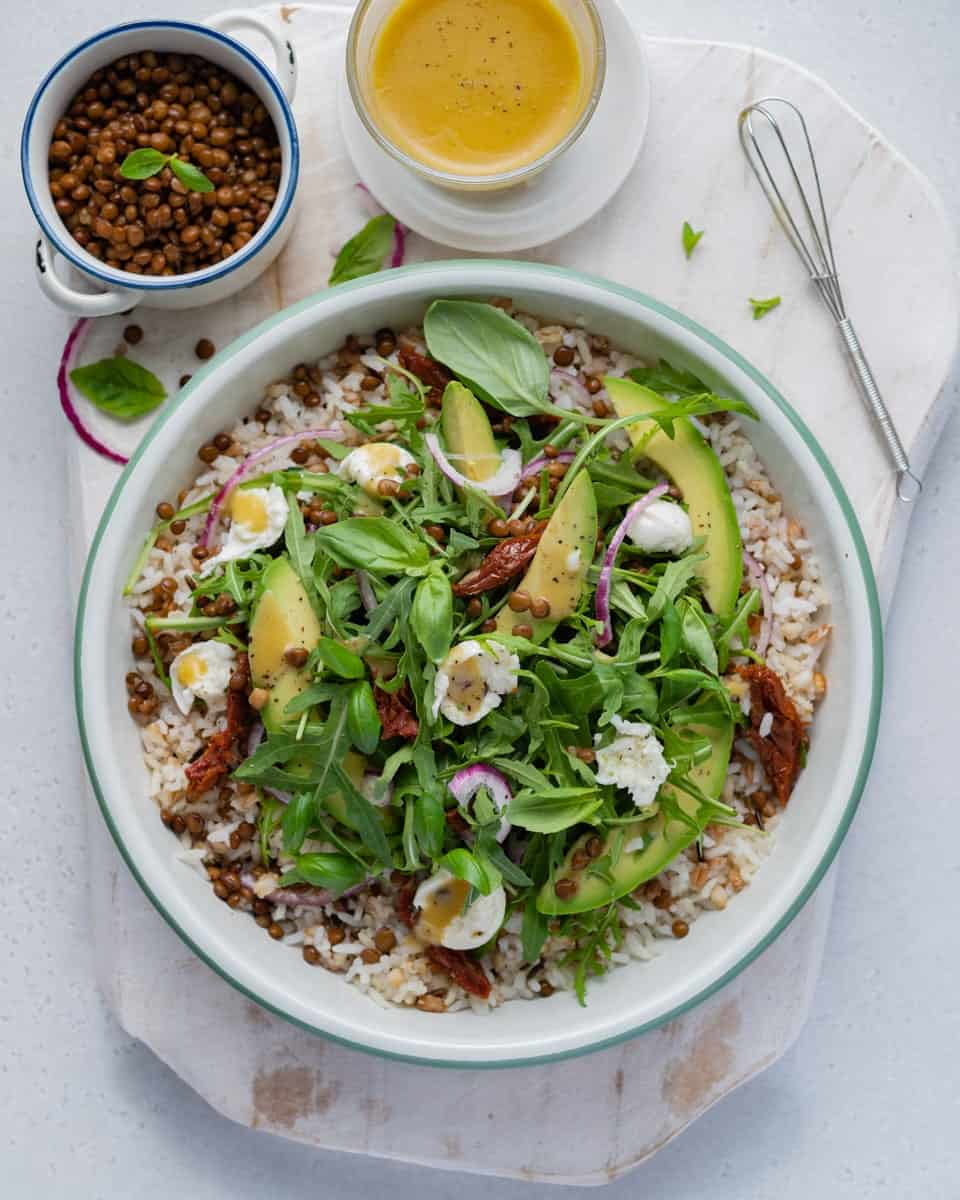 The best part is, this salad is a breeze to make! Simply cook the wild rice and lentils, then toss them with the vibrant ingredients. The honey mustard vinaigrette ties everything together with its tangy and slightly sweet flavor. In just a few easy steps, you'll have a vibrant and satisfying salad ready to be enjoyed.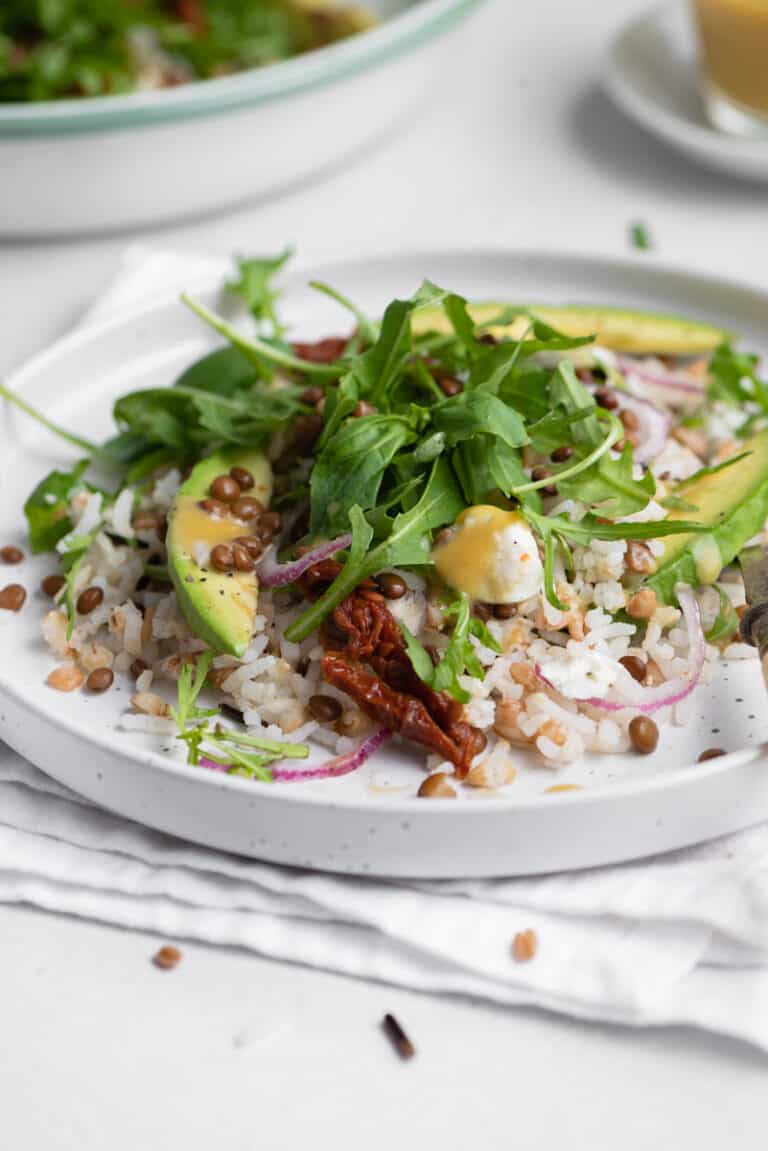 This salad keeps well in an airtight container in the refrigerator for up to three days. This makes it perfect for meal prepping or enjoying as a refreshing leftover lunch option.
Give this Wild Rice Lentil Salad a try and and tag me on social media if you share it.  Happy cooking!
For more soup recipe ideas, check out: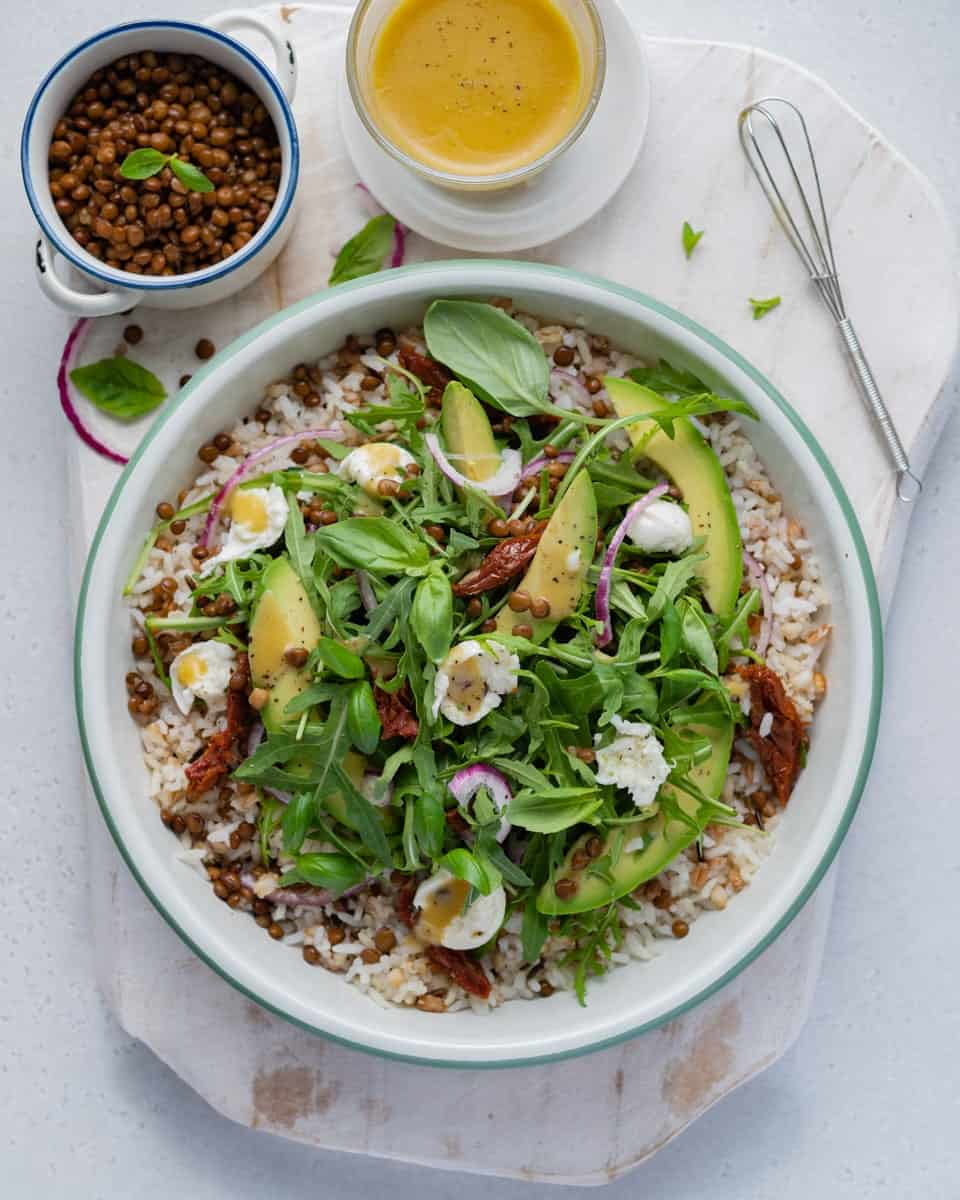 Print Recipe
Lentil Wild Rice Salad
A filling salad that serves as a perfect dish for lunch or dinner.
Ingredients
85g arugula leaves

1 red onion, finely sliced

75g sun-dried tomatoes, finely sliced

150g wild rice

265g canned brown lentils, drained and rinsed

1 avocado, sliced

150g mini mozzarella balls

15g basil leaves

40ml olive oil

1tbs honey

2tbs apple cider vinegar

2tbs mustard
Instructions
1
Drain the lentils and rinse it.
2
Cook the rice according to instructions on the package and allow to cool.
3
Finely slice the onion and sun-dried tomatoes.
4
Remove the skin and pit from the avocado and slice it in thin slices.
5
For the dressing: Prepare the dressing by mixing all the ingredients and whisk until blended.
6
Assemble: Toss the arugula leaves, onion, sun-dried tomatoes, wild rice, and lentils together in a salad bowl.
7
Top with avocado and mozzarella balls.
8
Tear basil leaves and add to the salad.
9
Serve with dressing on the side.
Notes
Serve the dressing on the side or add just before serving to avoid salad of becoming too soggy.